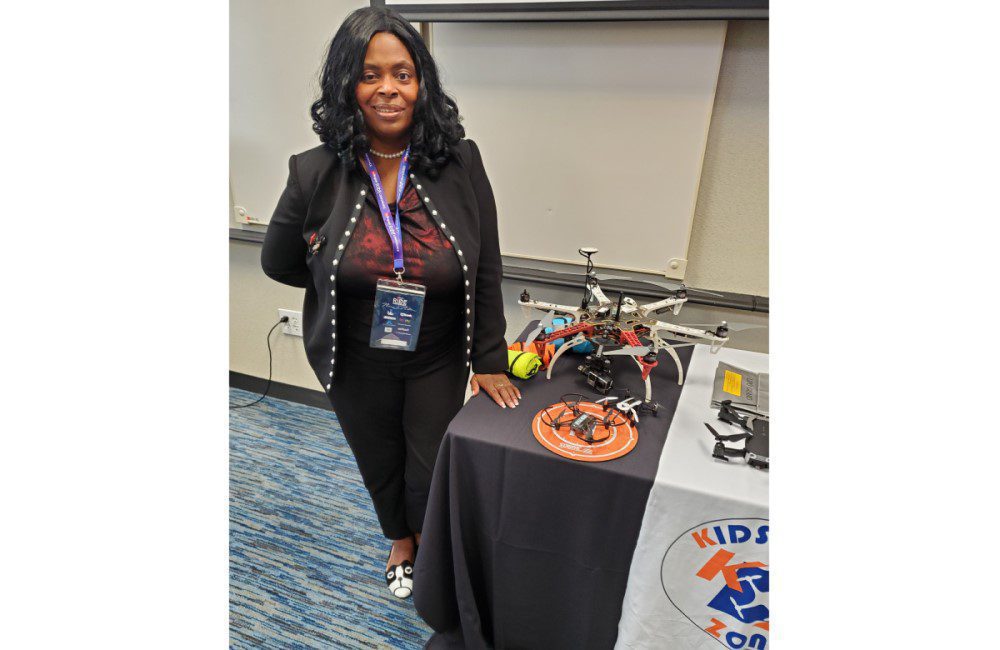 Prior to becoming a leading drone pilot who oversees one of the most successful and informative academy's in the state of Georgia — Unmanned Academy and Kidz Drone Zone (kidsdronezone.org) — Jacquene Curlee was a forensic accountant who specialized in fraud investigation. Her most recent calling came when her son suggested they do away with the cable bill, as they did not watch much television. Her desire for entertainment then shifted to the internet and YouTube specifically, where she was intrigued by a TED Talks episode about the growing tech sensation.
"I went back a couple of months later and this guy was flying six drones," she said. "Then I went back and [watched] the drones … building a house and I was like, 'Whoa, how [are] drones building a house?' And that's when I decided I wanted to actually get into drones."
Curlee, who uses the drone pilot name, "UAV Girl," explained that and more, opining in her session at RIDECON 2019, that drones should be considered by every media outlet for content creation. She also explained the three biggest misperceptions of drones during an exclusive conversation with rolling out.
Did you ever, at any point, have any in any reticence about getting into this industry?
Yes, once. I was looking at … schools and they were [like] $9,000 to actually attend the classes.
And I was like, 'Do you want to do this? 'Cause once you cross over that line, [and] you['ve] spent the money, you have to be committed to this.' And I decided, yes. I consider myself a trailblazer because … there weren't [any] African American women at all. After I bought my first drone, I realized I definitely wanted to be in this space.
Why do you think it's important for kids and African Americans to be a part of this industry?
Well, from the content aspect … I don't see the creativity that I know we have out there in the market. I just don't see it. Our creativity is very different than others in the market. And I'm thinking if we can get more of us into this space, the content that will be much more interesting, much more lucrative, and [influential].
Can you point to three common misperceptions about drones?
– People think drones are the enemy. Drones are not the enemy. You can turn anything into something illegal, right? Drones do a lot more good than they do bad. But what happens is the news media [sensationalizes] the story because they want the most views.
– People don't understand drones [are] high tech. It's not just some toy that you might get your kid to use, that's fun. You're talking about someone has to have a good understanding of [software and] regulations [in a] combined package.
– The underutilization of drones. People are just not informed. One of the main reasons I come to RIDE is … to inform us and the public that this high-tech tool can be used in various arenas.