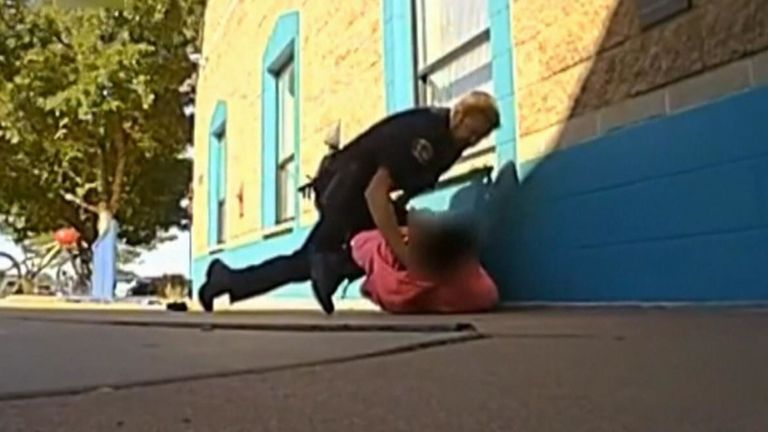 A White police officer assaulted an 11-year-old Black girl over a dispute that involved milk. Bodycam video of the Aug 27, 2019, incident went viral after it was released on YouTube on Oct. 22.
In the video, resource officer Zach Christensen can be seen assaulting the child at Mesa View Middle School in Farmington, New Mexico.
According to The Farmington Daily Times, the girl allegedly took several cartons of milk while in line to get breakfast in the school's cafeteria. When teachers asked her to put the milk back, she reportedly threw the milk on the ground and walked away.
Christensen followed the child when she walked out of the building. He grabbed her and pinned the screaming girl to the ground while yelling, "You're done, you're done, you're done, you're not going to assault the principal. Put your arms behind the back! Put your arms behind your back!"
The child can be heard screaming and crying while saying, "Get off me! Ow! Get off me!"
Christensen continued to yell at the girl, "Turn over! Turn over! Do not resist! Do not resist! Stop resisting!"
At one point, another unidentified officer attempted to intervene and stop Christensen by saying,  "Officer Christensen, you need to allow her to stand up. Officer Christensen, she is not a threat to yourself or others at this moment."
"We're at the point of arrest," Christensen replied.
"I understand that sir, but you're not going to use excessive force to get this done," said the intervening officer. Christensen shouted: "We're not excessive!"
Christensen resigned from the city's police department after an internal review found he violated the department's policy for use of force
View the video after the jump.