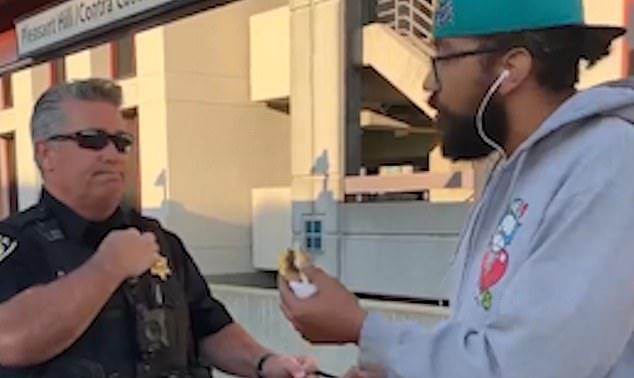 Another video of a police officer's interaction with a Black person has caused a stir. The latest incident occurred over the weekend in the Bay Area, according to the San Francisco Gate.
On the 15-minute video, uploaded by Facebook user Bill Gluckman, a Black man is confronted by a White police officer while on the platform at the Pleasant Hill/Contra Costa Centre BART train station.
The Black man, who has yet to be identified by name, is seen eating a breakfast sandwich when he is approached by Officer D. McCormick.
"You are detained, and you are not free to go," McCormick says. "You're eating. It's against the law."
"So what?" the man responds, while attempting to pull his backpack free from McCormick's grip.
"You're going to jail," McCormick says.
"I'm not going to jail for eating a f—ing sandwich," the man responds.
"No, for resisting arrest."
Three more officers arrived on the scene as backup and placed the man in handcuffs before escorting him into a private room at the train station.
An independent auditor is reviewing the case, but BART spokesperson Alicia Trost said the officer gave the citation because the man was "eating, which is a violation of state law," according to the San Francisco Gate.
"No matter how you feel about eating on BART, the officer saw someone eating and asked him to stop, when he didn't, he was given a citation," Trost wrote.
View video of the encounter after the jump. (NSFW)