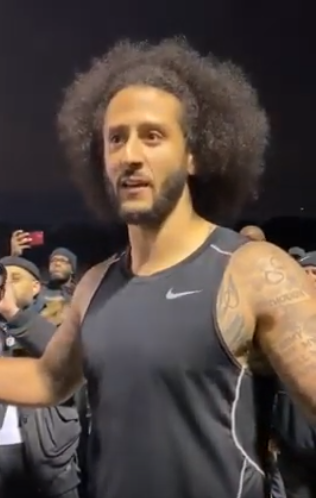 Despite a last-minute change in venue and logistics, about 250 fans and 75 members of the national media converged in south suburban Atlanta to watch exiled  quarterback Colin Kaepernick workout for NFL teams.
Eight league teams were on-site at Charles Drew High School in Riverdale, Georgia, to watch Kaepernick, 32, throw passes to free-agent receivers Bruce Ellington, Brice Butler, Jordan Veasy and Ari Werts.
Among the NFL teams in attendance were the Philadelphia Eagles, Seattle Seahawks, New York Jets, Washington Redskins and Kansas City Chiefs, according to Kaepernick's agent Jeff Nally. Representatives from the teams were seen jotting notes in their pads at regular intervals as Kaep threw a variety of short and intermediate passes and bombs to his handpicked crews of receivers.
Kaepernick, 32, looked in shape and boasted a strong arm as he zinged the ball all over the field with velocity, although he was off on some of his long throws.
Kaepernick, who wore a black tank top and matching shoes and shorts, took his time signing autographs for throngs of fans waiting behind the fence around the field. He later told the media that he accomplished his goal of showing the NFL that he is ready to return to the league.
"Our biggest thing with everything today was to make sure we had transparency in what went on," Kaepernick said after his workout. "We weren't getting that elsewhere, so we came out here."
But if Kaepernick proved his point of showing that he still looked good despite being ex-communicated from the league for the past three years, the NFL made it explicitly clear it was indignant with Kaepernick's last-minute decision not to show up at the original site. The pre-determined agreement was for everyone to meet at the Atlanta Falcons training facility in Flowery Branch, Georgia, about an hour north of Atlanta.
Posting on Twitter, the NFL said it was "disappointed that Colin did not appear for his workout. … Colin's decision has no effect on his status in the league. He remains an unrestricted free agent eligible to sign with any club."
Clearly unbothered by the league's stance, Kaepernick continued to trumpet his workout and readiness to play again.
"I've been ready for three years," Kaepernick said. "I've been denied for three years. We all know why. I came out here today and showed it in front of everybody. We have nothing to hide. We're waiting for the 32 owners, the 32 teams, (Commissioner) Roger Goodell to stop running, to stop running from the truth, to stop running from the people."
Kaepernick's agent Jeff Nalley admitted that he is pessimistic about his client's chances, despite how sharp he looked in the workout.
"If teams want to see him, they will ask to work him out," Nally said. "No team asked for this workout," adding that the NFL set this up, contradicting the normal way free agents are signed by teams.
Click continue to watch Kaepernick's workout as well as his speech to the media.