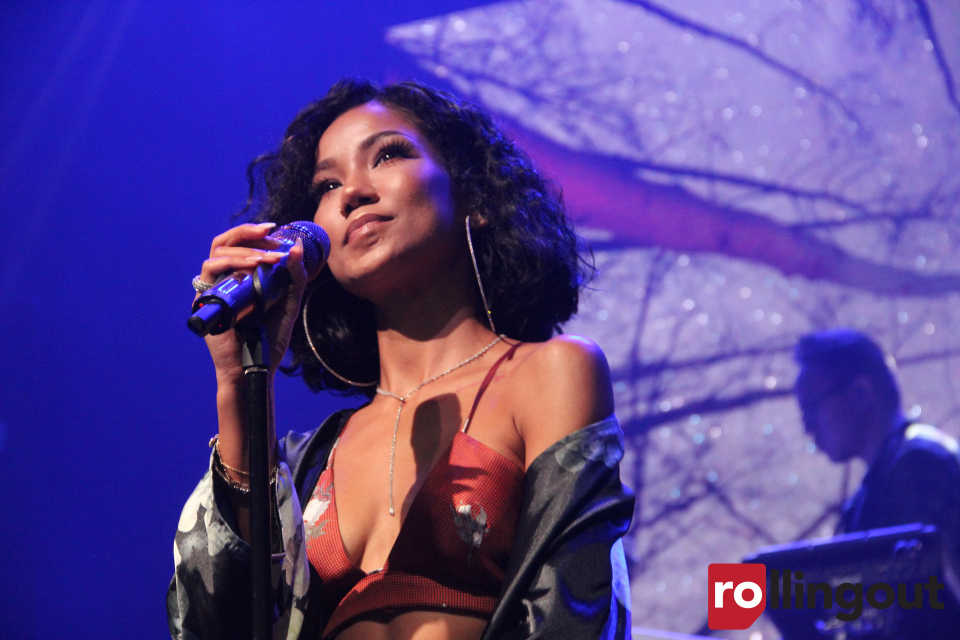 A funny thing happened on the way to the end of the new Jhene Aiko song: Big Sean happened on the scene with his sexual bravado and turned Black Twitter into complete bedlam.
The talented songstress was creating her normal harmonic magic on "None of Your Concern," but then fans were ambushed when Big Sean unleashed these sexually sizzling lyrics that blew their wigs back:
But every time I lay down I think about you naked
And if you find my replacement, how could you?
I made you c– nine times in one day
Your two lips should come in a vase, you rode my face
I realize you look as good as you taste, hmm (Yeah)
Fingers only a mile from grabbin' you up and d—in' you down
I'm grabbin' your waist, your rooms is my only escape, I guess that's none of you concern. 
As one fan opined, no wonder Aiko got dude's name tattooed on her. The rest of Black Twitter, especially females, had to take a moment to gather themselves after learning of Big Sean's virility and sexual prowess.
Check out the video to the song "None of Your Concern" below and then check out the response from the hot and bothered crowd:
All of us when Big Sean said 9 times in 1 day
👀👀#NoneOfYourConcern #NOYC
pic.twitter.com/mGzhpiCAqv

— Siobhain (@summer0001) November 15, 2019
When Big Sean said "I made you cum nine times in one day" I bet no dude felt that

— cristal 🕷 (@xxcristaal01) November 15, 2019
https://twitter.com/Silence_isloud/status/1195247403525431297?ref_src=twsrc%5Etfw%7Ctwcamp%5Etweetembed%7Ctwterm%5E1195247403525431297&ref_url=https%3A%2F%2Fbossip.com%2F1810300%2Fbig-sean-popped-up-on-a-jhene-aiko-song-and-said-he-made-her-do-this-9x-in-one-day-and-twitter-exploded%2F
Me when I thought Jhene Aiko's video was over and here come Big Sean out of nowhere rapping… pic.twitter.com/fu1az56jn6

— Nicole Perez (@nicole_perez1) November 15, 2019
https://twitter.com/prettyIegend/status/1195272091790127104?ref_src=twsrc%5Etfw%7Ctwcamp%5Etweetembed%7Ctwterm%5E1195272091790127104&ref_url=https%3A%2F%2Fbossip.com%2F1810300%2Fbig-sean-popped-up-on-a-jhene-aiko-song-and-said-he-made-her-do-this-9x-in-one-day-and-twitter-exploded%2F