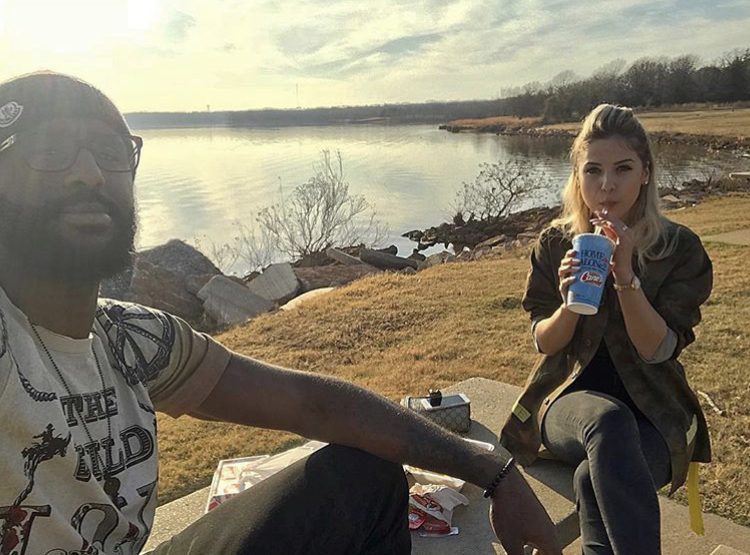 Patrick Patterson of the Los Angeles Clippers continues to face backlash following his comments about Black women.
The NBA player apologized after initially referring to Black women as "bulldogs."
The initial incident began after Patterson posted an image on Instagram of his wife, Sarah Nasser, who happens to be White. Several Instagram users responded to the post and one person suggested that Nasser would not have married Patterson if he was not in the NBA.
Patterson responded to critics with this about Black women.
"So I should settle for a bulldog and act like I'm happy with my life and preach 'keep it in your race' to the world as if Dr. [Martin Luter] King didn't fight/die for equality," he wrote. "Acceptance, all cultures loving one another, and no hate? That may be your life but I don't want that for mine or my family. Color doesn't matter. Wake up."
Along with a mea culpa posted on Instagram, Patterson wrote, "My sincere apology to the individual and his family for the cruel comments we exchanged on that day."
However, Patterson continued to face critics on social media.
Bol pat Patterson gone call black women bulldogs and then gone try and apologize.. Nahhh bro you done in the community 😂😂.. some of y'all burning bridges and can't come back over 😂😭

— Pimp. C (@Culdy_) November 25, 2019
Pat Patterson called black women bulldogs like his wife ain't gon start looking like a dying cactus before she turns 40

— Bokeem Phoenix (@CheesusSlice) November 25, 2019
Lmaoo…I mean Black Women…..I mean be honest y'all really care about the opinion of Pat….Patterson?! Lmaoooo don't stress y'all selves

— Alexander Royale (@LexLuthorDaKing) November 25, 2019
In other News Pat Patterson of the Los Angeles Clippers which is Black said the Black women are Bull Dogs🐶. That hurt my feelings as a Man

— JB (@JBtown321) November 25, 2019
😂😂😂😂they said pat Patterson mama must be a bulldog 😭these athletes hate themselves you come from black women

— Say (@Saboluv_22) November 25, 2019
Pat Patterson refers to black women is Bulldogs. White supremacy has taught him well. He's a great student of it. He should hold classes he's so good at it. Absolutely disgusting. Who raised this fool?

— Angel Face (@AngelFac_e) November 25, 2019