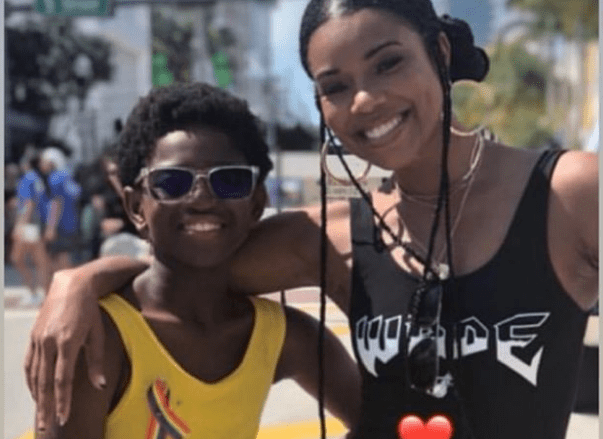 NBA legend Dwyane Wade, who was known to unleash his gangsta on the court from time to time, has been channeling his inner pit bull in defense of his family recently.
Days after supporting his wife Gabrielle Union after her unceremonious ouster from "America's Got Talent," the Miami Heat icon defended his Thanksgiving family photo against critics of his son's attire and accouterments.
This is the photo that Union posted on her Instagram page that caused consternation among Union's 15 million Instagram fans:
As you can see, D-Wade's Turkey Day pic featured his second-oldest son, Zion Malachi Airamis, who rested his hand on his father's shoulder while sporting long fingernails and a crop top. Many fans had rather tart comments about it.
D-Wade retorted with this message for his 15 million Instagram followers and 8 million Twitter fans:
I've seen some post-thanksgiving hate on social about my family photo. Stupidity is apart of this world we live in—so i get it. But here's the thing—I've been chosen to lead my family not y'all. So we will continue to be us and support each other with pride, love & a smile! ✌🏾

— DWade (@DwyaneWade) November 30, 2019
As a parent my only goal is that my kids feel that i see them , love them and support them. https://t.co/ZrJp9WFdbi

— DWade (@DwyaneWade) November 30, 2019
D-Wade also retweeted a strong Twitter post that supported his stance on his son's sexuality.
— DWade (@DwyaneWade) November 30, 2019
D-Wade and Union received a lot of love for their adamant support of Zion Wade. What do you make of fan's feelings and Wade's comeback?