Without making their rekindled relationship "Instagram Official," as urbanites like to say, Future let pop culture know unequivocally, that he is back with the young stunning model Lori Harvey — again.
Future posted this Instagram Live photo of Lori Harvey with her reportedly draped in the very wears that the rapper bought for her. The IG Live photo is no longer available, of course, but was screen-captured by a bevy of social media outlets and users: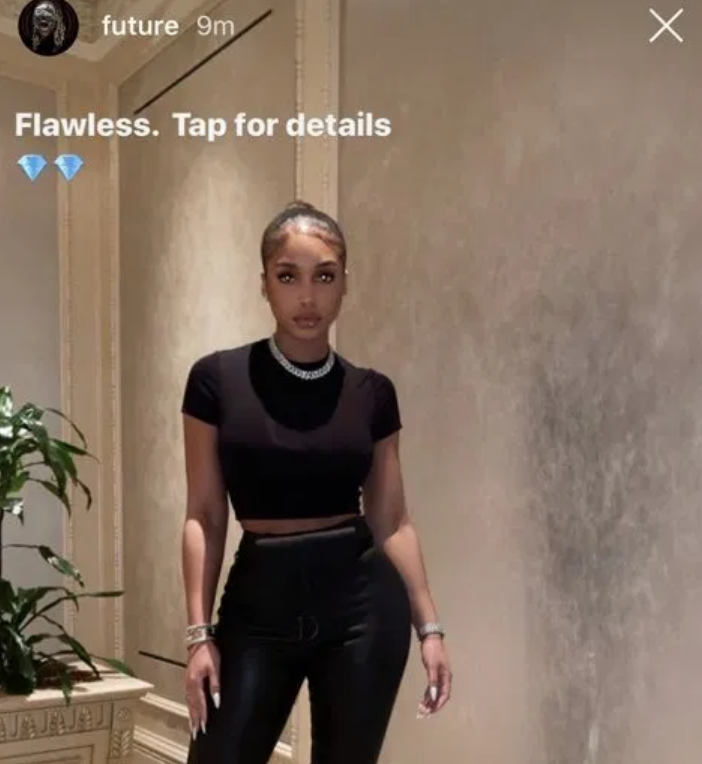 This comes just weeks after Lori Harvey, 22, and Sean "Diddy" Combs, 49, ended their relationship. And it comes after Harvey has been linked to the likes of Trey Songz, Diddy's son Justin Combs and Memphis Depay. This also represents the second time that Harvey and Future have been romantically linked.
But not everyone is pleased with this Lori Harvey's latest move, most of all her parents.
According to Eurweb.com, Future, whose real name is Nayvadius DeMun Wilburn, 36, was not invited over for the Thanksgiving holiday with the Harvey clan, due to Steve Harvey's alleged aversion to Future. Below, Lori Harvey's mother, Majorie, emphatically told her daughter back in 2015 not to date rappers and athletes as she prepared to go off to college.
This is interesting advice when you consider that Majorie Harvey was reportedly married to two major national drug dealers who are currently serving decades in federal prison.
Check out Marjorie Harvey's dating advice to daughter Lori below. Then take a look at a sampling of the wild responses by social media to the news that Lori Harvey and Future have hooked back up.
https://twitter.com/raquelbianka/status/1200555360970559489
#LoriHarvey gonna break his heart & Pastor Future will come with the tunes…stay tuned pic.twitter.com/QRbzYlGY9Y

— staleyinsight (@staleyinsight) November 30, 2019
#LoriHarvey This is what happens when your daddy doesn't take the time to sweep around his own front door before giving out relationship advice to the women of the world 🤦🏾‍♂️🤦🏾‍♂️🤦🏾‍♂️

— Junior Escobar (@Eazy_huh) November 30, 2019