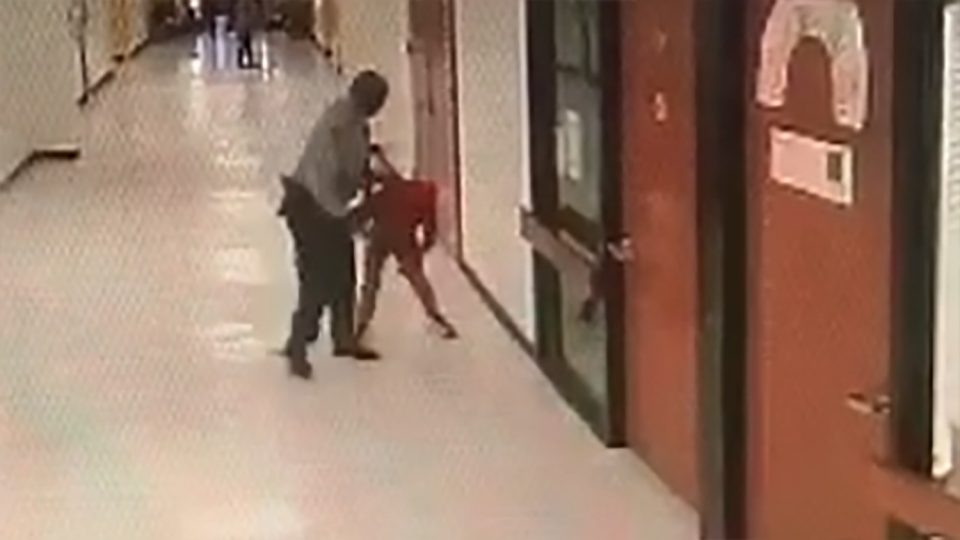 Parents whose children attend a school in Henderson, North Carolina, were furious after video emerged of a resource officer slamming an 11-year-old child to the floor. Days after the video of the child being assaulted surfaced on Dec. 12, the officer was reportedly fired on Dec. 16, according to WNCN.
On the surveillance video, the unidentified resource officer can be seen walking in the hallway at Vance County Middle School. While walking alongside the small student, the officer, who appeared to be nearly one-foot taller than the kid, grabbed the child and slammed him to the floor. He then picks him up, and slams him to the floor a second time, then drags him off camera.
The school released a statement following the incident.
"We are aware of the incident that occurred at Vance County Middle School involving a school resource officer. We are deeply concerned by the actions that took place. School and district officials are working closely and in full cooperation with the local authorities to address this matter consistent with school board policy and state laws. The safety of our students has been and continues to be of the utmost importance to our district. Should you have further questions, please direct those to the Vance County Sheriff's Office."
The Southern Poverty Law Center also released a statement about the disturbing incident.
"The recent video of a North Carolina school resource officer repeatedly slamming a middle school student to the ground is unconscionable. Law enforcement officers are frequently brought in to schools to handle routine school discipline and this far too often is the result — an outrageously excessive use of force on young children. This must end. Our children deserve better."
Authorities have not publicly identified the officer.
View video of the incident after the break.