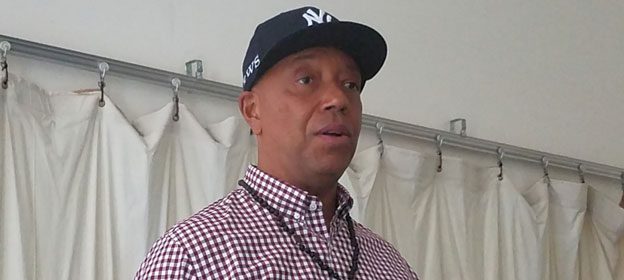 Angela Simmons is defiantly siding with her legendary uncle, hip-hop pioneer Russell Simmons, after it was revealed that Oprah Winfrey would be an executive producer on a documentary alleging he raped an employee.
Angela Simmons, 32, told Bossip she won't wedge her way into the middle of this controversy regarding Winfrey's untitled docu-series that premieres at the Sundance Film Festival in January. However, the "Growing Up Hip Hop" star just wants to make it clear she's standing by family.
"I'm not ever gonna get in between what's going on with people. I'm going to stand by my family," Angela Simmons told Bossip. "I'm not going to get in between all of that, it's not my place. No one wants to see their family getting hurt. He has daughters."
"My uncle knows what he's done," she added. "But I don't necessarily want to shine a light on that."
Russell Simmons, 62, co-founded the venerated label Def Jam that signed the likes of iconic rappers LL Cool J, Beastie Boys, Slick Rick, Kanye West and many others. He also created the cultural clothing phenomenon Phat Farm in the 1990s. He has admitted to being a ladies man who enjoyed many romantic relationships, but he says all of his sexual encounters were consensual.
Angela Simmons also talked to Bossip about how GUHH co-star Romeo Miller spurning her has affected her.
"I was personally taken aback by what happened," she said of Miller's behavior. "I'm not excited about the storyline, but at the end of the day, it's actually what's going on. I can't control the narrative."
"You say no judgments," Simmons added about Miller, the son of rap legend Master P. "But why are you judging me?"