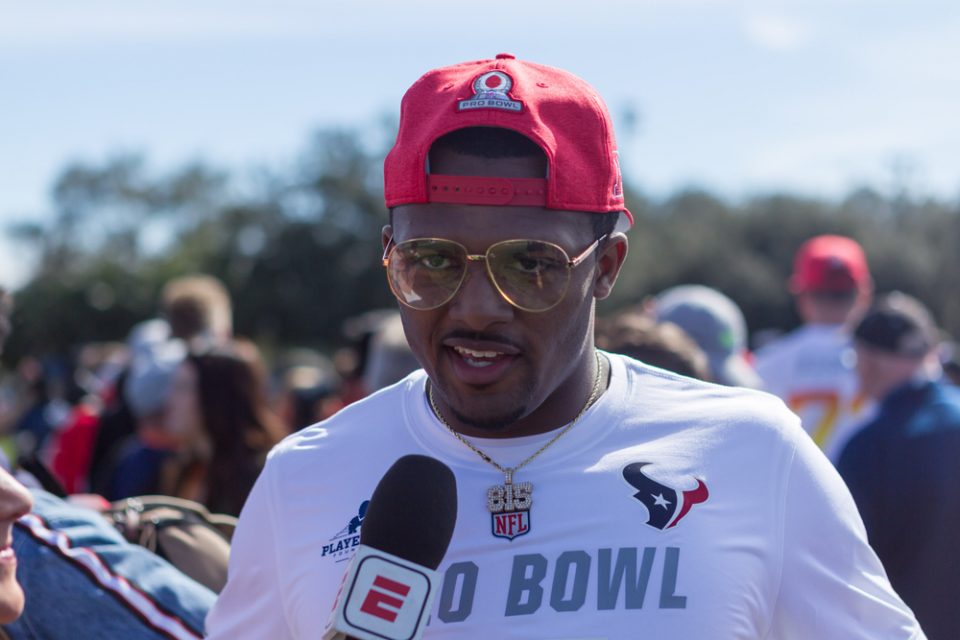 Despite the NFL's stringent COVID-19 protocol, which prohibits more than three players from gathering outside a club facility, that didn't stop Houston Texans' quarterback Deshaun Watson. On Tuesday, Dec. 15, Watson was photographed with several of his teammates who all came out to support the grand opening of his new cheesesteak franchise, Lefty's.
Watson was joined by friends, family and at least five other teammates that included Brandin Cooks, Tytus Howard, Duke Johnson, Roderick Johnson and Laremy Tunsil at the grand opening.
According to the NFL-NFLPA COVID-19 protocols for 2020 season handbook, "Groups of more than three (3) Tier 1, Tier 2, and Tier 3 Individuals, including players, are prohibited from gathering outside of the Club facility or team travel."
NFL spokesperson Brian McCarthy said, "We are aware of the event but will decline further comment."
When asked the following Wednesday, Watson confirmed the event had followed the NFL's mandatory COVID-19 protocols.
"I mean, we had the masks," Watson said. "We did everything that we were supposed to do. Six feet from different people. It was a restaurant opening. It wasn't really an event. It was a grand opening of my restaurant. So people were coming in to get food and things like that and everyone was excited about it. So, it turned out pretty good, and right now from the messages I got from after, it's still popping."
And while cases of coronavirus are currently spiking across the country, restaurants in Texas are only allowed to operate at 75% capacity.
According to Gov. Greg Abbott's checklist for restaurants, "groups maintain at least 6 feet of distance from other groups at all times including while waiting to be seated in the restaurant.
"The six feet of distance between groups seated at different tables is not required if the restaurant provides engineering controls, such as a partition, between tables. A booth may be next to another booth as long as a partition is constructed between the booths, and that partition is at least 6 feet tall above ground level."