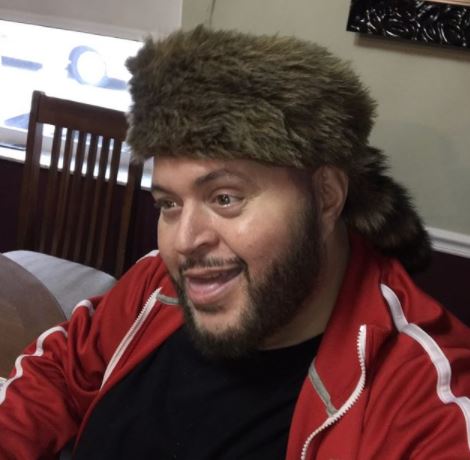 Prince Markie Dee of the groundbreaking '80s hip-hop group The Fat Boys died on Thursday, Feb. 18, at the age of 52 of congestive heart failure.  He died one day before his 53rd birthday.
Born Mark Morales in Brooklyn, Prince Markie Dee, and his group members, Damon "Kool Rock-Ski" Wimbley, and Darren "Buff Love" Robinson helped elevate hip-hop mainstream with classics like "All You Can Eat," "Jailhouse Rap" and "The Fat Boys Are Back." The group originally began as the Disco 3 and were protégés of fellow hip-hop statesmen Kurtis Blow.
The Fat Boys also appeared in the loosely based Russell Simmons biography Krush Groove and starred in the hit comedy Disorderlies with Ralph Bellamy in 1987 which at the early beginnings of the rapper turned actor trend. Group member "Buff Love" Robinson died in 1995 from a heart attack.
After The Fat Boys, Prince Markie Dee released his debut album Free in 1992, which spawned the No. 1 hit single, "Typical Reasons (Swing My Way)." Always in the mix of music, he transitioned into a radio host and worked on-air at Miami's WMIB 103.5 The Beat for several years. Most recently, Morales hosted his own show on SiriusXM's Rock The Bells.
Prince Markie Dee would go on to have a successful writing and production career as well. He and producer Corey Rooney would later hookup in the '90s and form the production team The Soul Convention. One of their biggest hits was Mary J. Blige's "Real Love." They also produced smashes for such artists as Mariah Carey, Craig Mack, Jennifer Lopez, and Marc Anthony.
Scores of entertainers have paid their respects to the late rapper since his passing and are honoring his legacy.
"So sad to hear of the legendary @PrinceMarkieDee of the Fat Boys' passing. One of my childhood idols and favorite MCs of all time. Left us way too soon. He will truly be missed," Eminem posted on Twitter.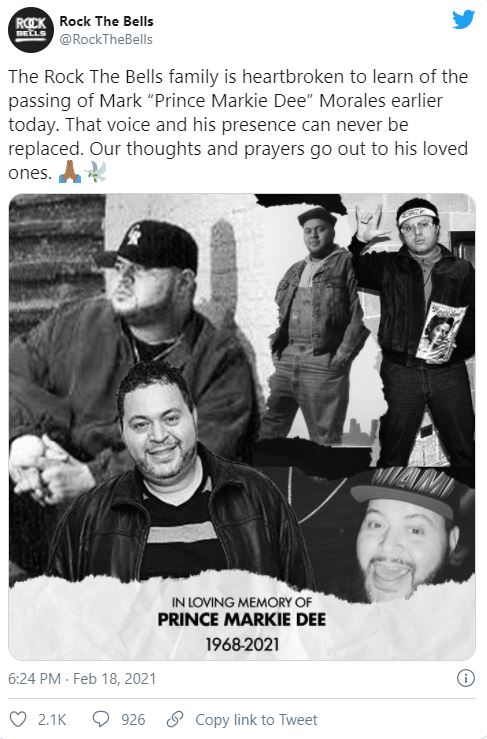 Former BET VJ Donnie Simpson sent his respects on Twitter as well. "I just learned that @PrinceMarkieDee of the Fat Boys has died of congestive heart failure. He was only 52. They were my very first guests on #VideoSoul, so you know they held a special place in my heart. God bless you Mark. Peaceful Journey!"
Questlove of The Roots also celebrated Morales and The Fat Boys legacy on Instagram with a tribute to the group and reminded folks of their trailblazing accomplishments. "Like they were so dope we just took them for granted," he wrote. "They did dope routines and dance steps … [their] albums went gold and platinum. [They] did movies, tv and commercials. They explored territories for the first time that today just seems like (yawn) a Tuesday."
Rolling out sends our condolences to the family of the late MC.