Not even a day after Saweetie publicly confirmed her break up with boyfriend Quavo of the rap group Migos, their relatives began savagely clawing at each other on social media.
Quavo, the brother of Offest, a popular rap star and fellow Migos member, has been getting thrashed on Twitter based on the unsubstantiated rumors that he caused the breakup with his alleged infidelity.
Quavo's sister, Migo Shara, tried to defend her brother's character while fending off social media haters when she told her 50K Instagram followers that Saweetie is not so sweet.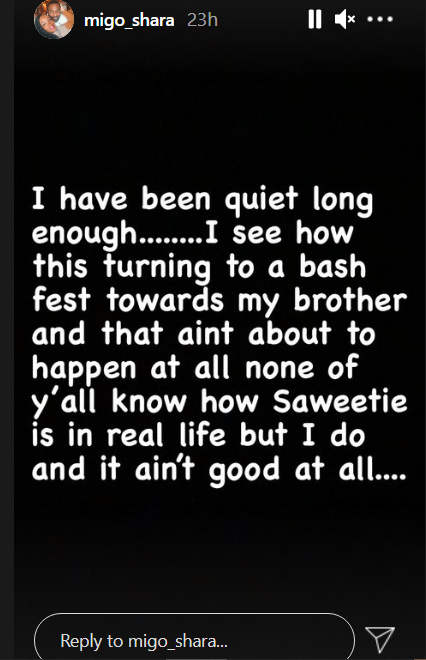 When Shara cast aspersions on Saweetie, her aunt Whitty took up for her niece and Shara who was pelted with slams from the pro-Saweetie camp.
Now now! Do we need Whitty to start airing this MF out??? I'm not gone be half as nice as ol Shara! What she not gone do is speak ill of my niece, I get very disrespectful about mine. Since we sticking our nose in other people business🙄 first they love you then they hate you

— ⚡️WHITTY⚡️ (@whittyharp) March 20, 2021
Talkin bout she been quiet long enough. Girl it ain't even been 24 hours. GTFOH

— ⚡️WHITTY⚡️ (@whittyharp) March 20, 2021
And listen….. I would have never spoken on this…. they business is they business, I stay TF out of it, but when sisters wanna put they self in it that's when it becomes my business

— ⚡️WHITTY⚡️ (@whittyharp) March 20, 2021
Hol up hol up….. There's more🙃 and who don't want what? With whoooo??? Girl Stawp pic.twitter.com/xfU6gpVPBr

— ⚡️WHITTY⚡️ (@whittyharp) March 20, 2021
This you???? pic.twitter.com/WTzLVUzLhn

— ⚡️WHITTY⚡️ (@whittyharp) March 20, 2021
After Shara got wind of Whitty's scorching words, she took off like a rocket on her Instagram story page.
"Who is Whitty b—- I don't know s— bout you and you don't know s— 'bout me. But I do know yo Niece is a self-centered b— who know body (sic) likes! You wanna air this b— ou,t run it h– this ain't what you want! Trust me! Only reason I was nice to any of y'all H– because of Qua!"
Shara then concluded her Twitter tirade with this warning to Whitty: "I don't like drama at all!! But f— with my family and it's on!"
Shara's outbursts turned her into a human dartboard as social media blasted her for slandering Saweetie and also clowned her for her vocabulary struggles:
"It was the "know body" for me 😭😭😭."
"This aint knowbodies business but saweetie and qua🤦🏾‍♀️."
"Imma need her to pull that grammar together 🥴."
"Know body????"
After getting pummeled for hours about her grammatical faux pas, Shara finally responded to her word critics, saying that she often misspells words when she's angry.
I don't give a DAMN!! Y'all take a typo and run!! 🤣🤣🤣 bye I ain't writing a essay paper Bih! pic.twitter.com/qeCWnpEWZe

— Migo Shara (@MigoShara) March 20, 2021