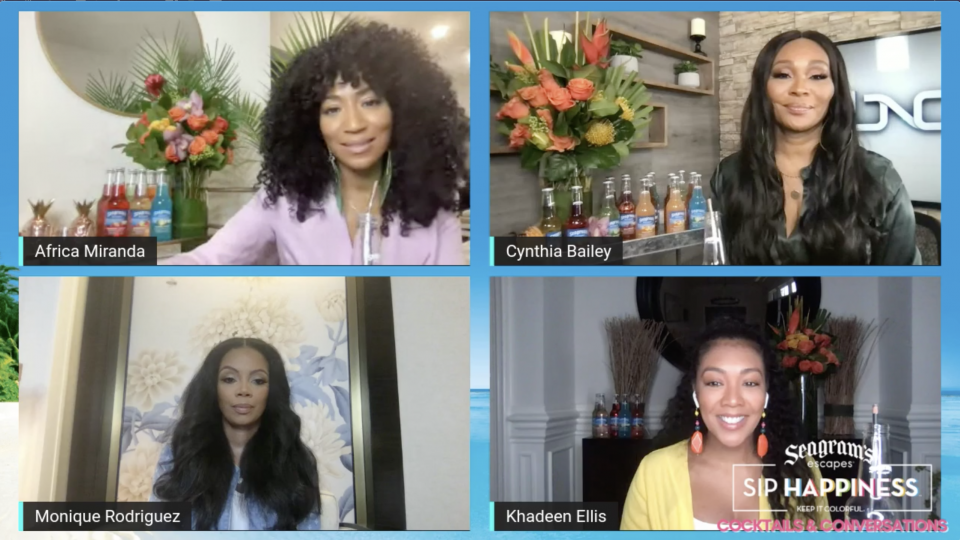 As a part of Women's History Month, rolling out's Sisters with Superpowers virtual conference kicked off the Seagram's Escapes female-driven empowerment tour, a four-part virtual experience that allows inspirational women to share their stories on how they have gone above and beyond in order to thrive in their respective lines of work.
The Seagram's Escapes sponsored event, titled Cocktails and Conversations, was held on Friday, March 26 and featured entrepreneur and TV personality Cynthia Bailey, actress and entrepreneur Khadeen Ellis, the CEO of Mielle Organics, Monique Rodriguez and was moderated by beautypreneur and host Africa Miranda. The uplifting conversation showcased and celebrated these women's journey's into entrepreneurship and told of how they built their respective brands, how they continue to flourish in their personal and professional lives and also how they manage being female bosses, mom's, wives, sisters, and so much more.
In line with Women's History Month, each of the women spoke on what they considered their superpowers to be. Ellis shared that her superpower is having thick skin, being able to laugh at herself and not taking anything personal. Bailey, who also serves as a Seagram's Escapes ambassador described her superpower as being her work ethic, "… I've worked my whole life, I don't mind working, I enjoy working, [and] I still have the same work ethic that I had from Taco Bell to Real Housewives of Atlanta. I show up."
During the discussion, each of the women also shared their thoughts on being a female boss. Monique Rodriguez of Mielle Organics said that "What being a boss means to me is the ability to create other bosses around you." She elaborated as she went on to say that "a true leader has the ability to [bulid] other bosses up, because this journey of success is not about you, it's not about me, it's about how many other people that I bring up on this journey of success with me, and that's what constitutes a true boss to me."
The remaining virtual tour stops are scheduled on the following dates. Stay tuned to rollingout.com for more information.
Saturday, April 24, 7 p.m. – RIDE Conference: Business & Entrepreneurship
Saturday, May 29, 7 p.m. – Design & Dialogue: Chefs and Mixologist Edition
Saturday, June 26, 7 p.m. – Star Studio: Roast & Toast – Comedians Edition
Click to continue reading on the next page to hear Cynthia Bailey describe being open minded and moving in faith.