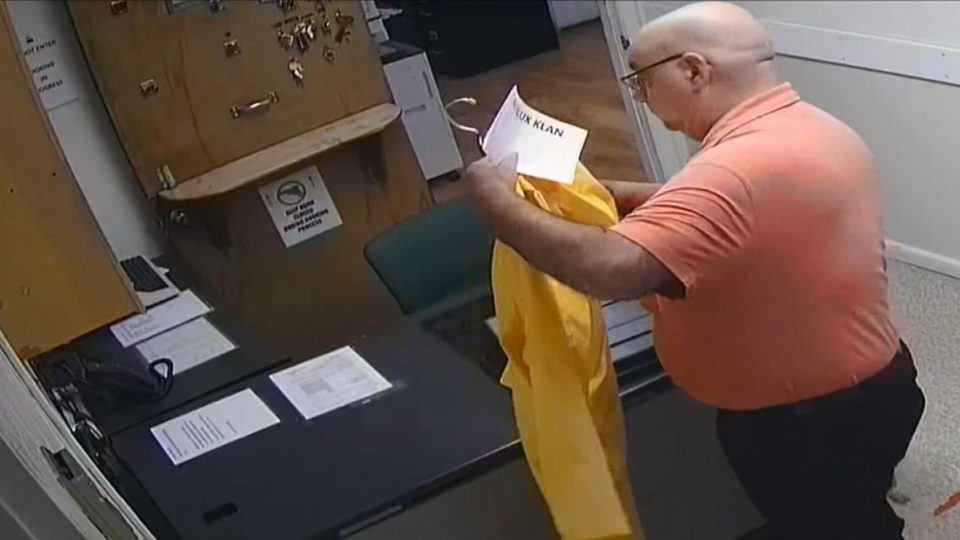 An Ohio police chief who was caught on camera placing a note with the words "Ku Klux Klan" on top of a raincoat on the desk of a Black officer has retired to avoid possible termination.
According to NBC affiliate WKYC in Cleveland, Anthony Campo, who worked at the Sheffield Lake Police Department, retired after meeting with Mayor Dennis Bring after being placed on administrative leave last week.
Campo was caught on surveillance footage on June 25 placing a note on the raincoat that belonged to the desk of the unidentified Black officer. Campo fixed the raincoat to look like a KKK member's hood and robe and waited from a distance until the officer returned.
In the video, there is no sound and it's not clear what was said between the two officers once the Black officer returned. Bring claimed it was Campo's idea of a joke on the officer, who had only been on the force for nine months.
"He thought this was just a joke," the mayor told the media after meeting with Campo. "How can you possibly think that you can put something on somebody's jacket like that, and especially if they were African American, and think this is a joke?"
Bring also told the media that Campo claims that he didn't get why his actions were so offensive.
"[Campo] says, 'I don't understand what everybody's all upset about. This was just a joke,' " Bring said.