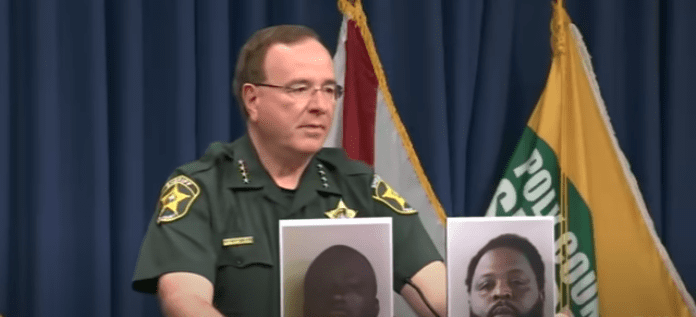 A Georgia sheriff mocked and taunted a large group of alleged drug dealers doing a freestyle rap about their reported crimes and subsequent arrests.
Sheriff Grady Judd of Pok County, Georgia, about 50 miles west of Atlanta, held a press conference following the apprehension of 29 individuals where authorities seized drugs with a street value of $283,000, along with $88,000 in cash and $89,000 worth of jewelry after an investigation that took 16 months.
Judd turned the interview into a comedy skit as he held up mugshots of some of the arrestees and made jokes about their foiled crimes.
"That's right, they thought they were cool. How cool are you today?" He said, while holding mugshots of several of the alleged dealers. At one point, he held fake conversations between some of the jailed participants.
"Can y'all make up a rap song? Well, I'll help you out," Judd said sarcastically as he put one of the large gold chains around his neck, replete with a gigantic medalion. "You see, we got your gold. We put your tail in the county jail."
Judd finished by adding: "Think about that, brothers. You know what? You can call this the Bell Gang Rap Song."
Three other dealers are reported at large, and Judd had a message for them as well.
"You can go ahead and turn yourself in or you can go to jail tired from running, but you're gonna go to jail," he said.
Take a look at the entire press conference below:
[embedyt] https://www.youtube.com/watch?v=G_imvlOnx-o[/embedyt]