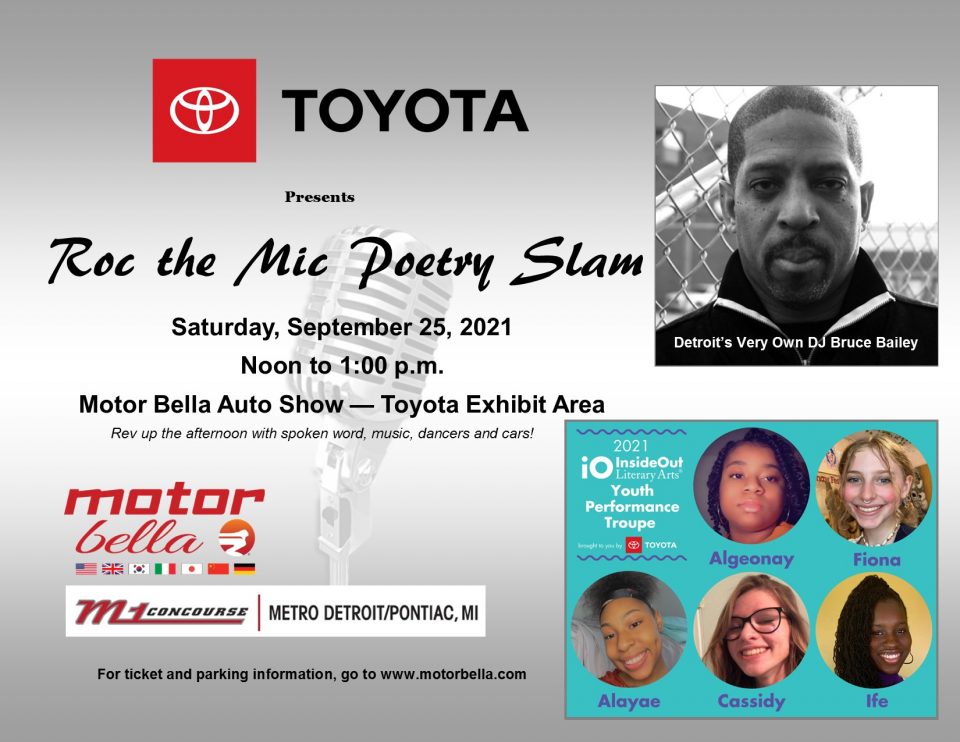 Toyota Supports Detroit Students Through InsideOut Literary Arts Spoken Word Youth Competition – Winners Rise to the Top – Students Perform Live at Motor Bella
InsideOut Literary Arts, an award-winning organization headquartered in Detroit, winners of its 2021 Performance Troupe supported by Toyota Motor North America will perform "live" at Motor Bella. The Performance Troupe is part of the organization's Citywide Poets afterschool program, which provides teens with weekly creative writing workshops, publications, and performance opportunities. For over two decades, InsideOut Literary Arts has reached more than 65,000 students in schools throughout Metro Detroit and published nearly 500 school literary journals. Students Algeonay Jackson, Fiona Colson, Alayae Hicks, Cassidy Howard and Ife Martin rose to the top as winners of the 2021 Youth Performance Troupe competition. The Performance Troupe will be led by Coach LaShaun Phoenix Moore, a Detroit-based vocalist, spoken word artist and culture creator who helped them fine tune their skills.
Toyota Presents $250,000 Check for The Salvation Army Connor Creek Corps Community Center Expansion
The Salvation Army of Metro Detroit ran its second consecutive "Summer in the City" fundraising campaign presented by Toyota. The $1.3 million fundraiser, which ran Monday, July 26 through Wednesday, Sept. 22, 2021, focused on expansion of the Detroit Conner Creek Corps Center, located at 3000 Conner St. on Detroit's east side. Proceeds from the Summer in the City fundraiser, which is the public phase of Conner Creek's $4.3 million capital campaign, go toward the following initiatives:
Construction of new classrooms to support additional educational opportunities, computer classes, mentoring and tutoring services;
Expansion of Conner Creek's existing senior, student and youth programs, such as general health, living and financial coaching services – as well as children's after-school programs and summer day camps;
Construction of a gymnasium to provide additional and year-round exercise and recreational programs, and;
Renovation and expansion of the current food pantry.
The nine-week fundraiser is supported by a $250,000 matching donation from Toyota. Toyota's check presentation and fundraising results will be announced at Motor Bella on Saturday.
Continue reading on the next page.