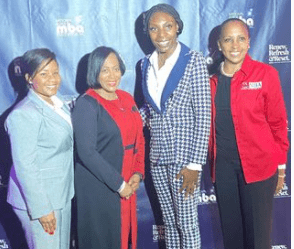 The South's first historically Black college, Clark Atlanta University, was founded on Sept. 19, 1865. It started as Atlanta University and consolidated with Clark College in 1988 to form Clark Atlanta University. CAU is acclaimed as having a top-rated, and now award-winning, MBA program.
Annually, the National Black MBA Association holds one of the most competitive and prestigious MBA case competitions in the country. In this competition, minority students compete to solve a challenging business case for $50K in scholarships. Additionally, the competition is sponsored by Stellantis (previously Chrysler/Fiat). Thirty-three top MBA programs competed, including Clark Atlanta, Georgetown, Ohio State, Georgia State, Michigan State, and New York University.
The highly competitive business competition came to an end and the winner was announced on Friday, Sept. 17, 2021.  Students from the Clark Atlanta University MBA program won, taking home $25K in scholarships. CAU finished ahead of Georgia Tech in second place, and University of Michigan in third place.
In the preliminary round, the CAU team beat Alabama A&M, Auburn University, Morgan State University, the University of Alabama, and the University of Texas at Austin to advance to the finals. CAU bested Baylor University, in the final round, along with Georgia Tech University, Penn State University, the University of Miami, the University of Rochester, and the University of Michigan.