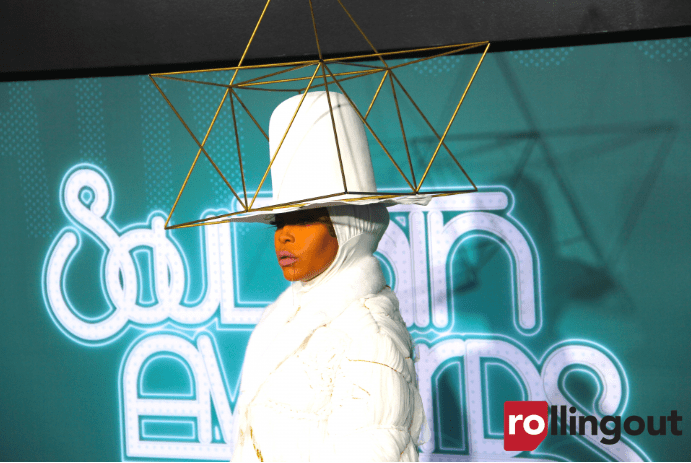 Troll Erykah Badu at your own risk. The songstress is comprised of equal parts queen and bare-knuckle gangsta.
The latter personality leapt out of her when a wayward fan boldly criticized the "Next Lifetime" singer after she gave blessings to both the impacted souls from Astroworld as well as Travis Scott.
Bless you @trvisXX . Safe Journey to all the souls. I'm so sorry . 🤲🏾

— ErykahBadoula (@fatbellybella) November 9, 2021
While some fans understood where Badu's heart was, others vehemently disapproved of Badu's tweet and sent her insulting messages.
https://twitter.com/saviorisntme/status/1457867158180990981
User @saviorisntme definitely triggered Badu because the normally eloquent and philosophical Badu bared her fangs at the critic.
"F— you h–," Badu barked.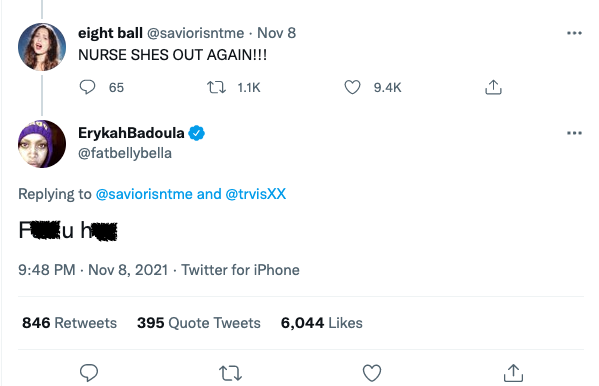 Not long afterwards, Badu issued a warning to her detractors to contemplate their words before coming at her twisted. The "Tyrone" singer reposted a tweet she sent out several years ago as a reminder to fans on how to comport themselves in her presence.
Look.. I choose peace but , say…
Don't walk up on me wrong..
This Tea and Incense can turn into
Colt 45 and Newports if NEED be.. OK?

— ErykahBadoula (@fatbellybella) June 1, 2014
Some fans took to Twitter to opine about the timing and appropriateness of Badu's words.
"That's Simple Math CHIEF!!😌" 💭🖤 pic.twitter.com/tUpIzgHM0w

— BROVA DAHKNESS ♻️🖤 (@1TheREC) November 4, 2018
https://twitter.com/gl0hen/status/1457869515178614784
https://twitter.com/RomanCake/status/1457910433671753729
Chile that man do not care

— AmazinNae4 (@AmazinNae4) November 9, 2021
https://twitter.com/Sum_Kiid/status/1458187417991598081