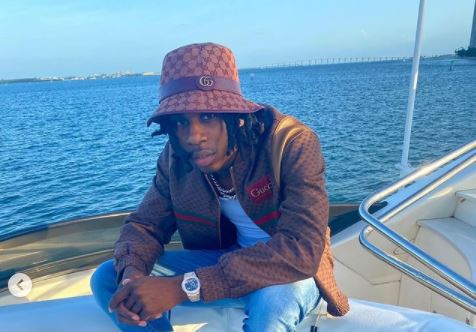 Chicago rhyme spitter Polo G caught a huge legal victory this week after prosecutors dropped two felony charges against the "Pop Out" rapper. Polo G was arrested in Miami in July while heading to an album release performance for his latest project, Hall of Fame. The "Rapstar" hitmaker's entourage was pulled over in the area of South Biscayne Boulevard and Southeast First Street and after talking with police, the occupants were ordered out of the car so a search could be conducted for guns.
Polo G called the stop racial harassment and became irate according to the police report and was "increasingly verbally aggressive" and refused to get out of the car.
"F— you. What the f—- do I have to get out of the vehicle for?" Polo G allegedly told police according to the report.
Polo G was forcibly removed and reportedly punched and elbowed one of the officers multiple times during the struggle, causing the officer to sustain multiple injuries, including a cut to the right upper forehead area, a cut to the right chin area and a swollen and slightly bruised right cheek.
"I will kill you. I swear I'll use these fists to beat the s— out of you and knock you're a– out," Polo G allegedly told the officer in the report.
Several other people in Polo G's entourage were arrested on various offenses, including driving with a suspended license, driving with no valid driver's license, resisting an officer without violence, disorderly conduct and breaching the peace. Authorities said the incident was captured on body-worn cameras and public safety cameras.
Continue reading on the following page.