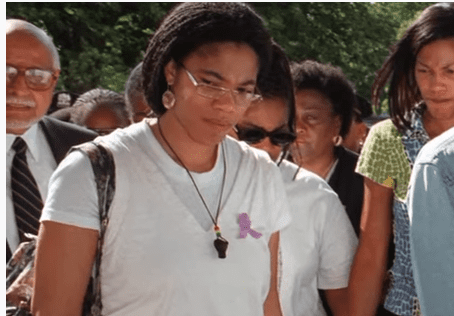 Malikah Shabazz, one of the six daughters of legendary Black nationalist and Pan-Africanist leader Malcolm X, was found dead in her New York home. She was 56.
Shabazz was reportedly found unconscious and unresponsive inside her home in Brooklyn on late Monday afternoon, Nov. 22, 2021, by her daughter, according to two senior police officials who communicated to CBS New York.
NYPD Commissioner Dermot Shea told PIX11 that Shabazz had been "ill for a period of time" but didn't get into specifics. The medical examiner's office was dispatched to Shabazz's home and determined during its preliminary investigation there were no signs of foul play.
This tragic news comes just days after New York County Supreme Court Judge Ellen Biben granted the motion to dismiss the convictions of Muhammad Aziz and the late Khalil Islam who were convicted of murdering Shabazz's father, Malcolm X. This ended a half-century fight to determine the real killers of the civil rights icon who was assassinated at the Audubon Ballroom near Harlem on February 21, 1965.
Shabazz was one of a set of twins who were born after her famous father was slain.
News of Shabazz' death reverberated throughout the modern civil rights community. Dr. Bernice King, the youngest daughter of Dr. Martin Luther King Jr. elocuted her condolences on Twitter, stating: "I'm deeply saddened by the death of #MalikahShabazz. My heart goes out to her family, the descendants of Dr. Betty Shabazz and Malcolm X."
Listen to the full report below.