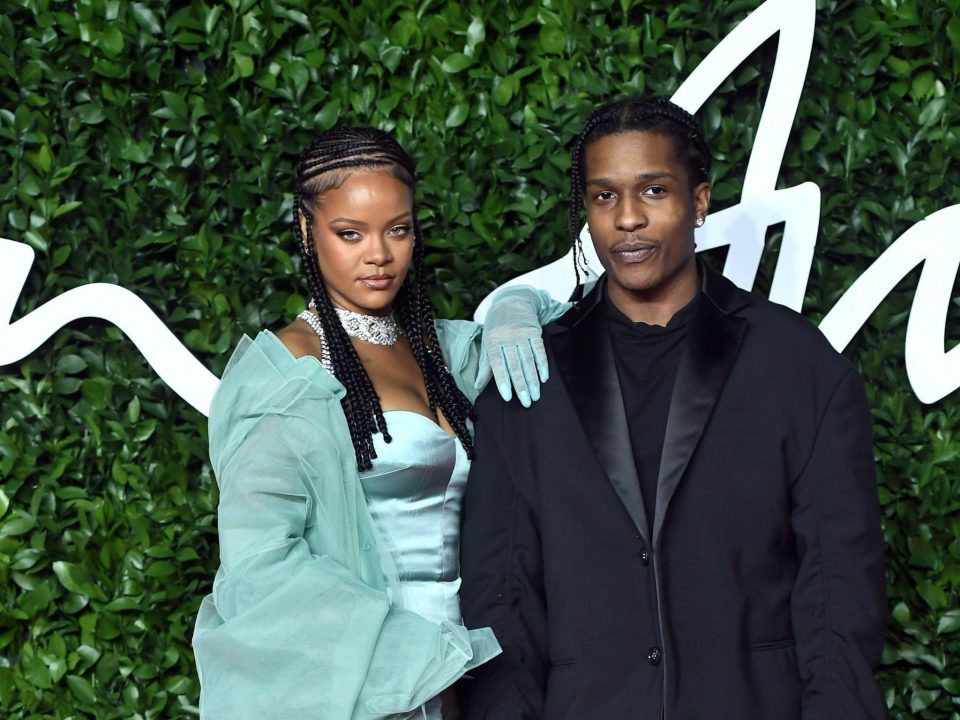 Drake is apparently in his feelings these days. He reportedly stopped following both Rihanna and the father of her unborn child, rapper A$AP Rocky, as soon as the news broke that Rihanna was pregnant.
Publications that keep track of when notable celebrities stop following one another noticed this, and the fans created hilarity with their memes about the Canadian rapper.
It is no secret that the prolific 33-year-old "You the Best" rapper is smitten by the Barbadian beauty who has gone off to create "Diamonds" with A$AP Rocky instead of him.
https://twitter.com/1ean4real/status/1488174221045940227?ref_src=twsrc%5Etfw%7Ctwcamp%5Etweetembed%7Ctwterm%5E1488174221045940227%7Ctwgr%5E%7Ctwcon%5Es1_&ref_url=https%3A%2F%2Fwww.xxlmag.com%2Fdrake-memes-asap-rocky-rihanna-pregnant%2F
It may be even harder on Drake now that Robyn Rihanna Fenty's father has endorsed the RiRi and Rocky matchup, with the patriarch adding that he believes Rocky will be a great father.
Everyone: Rihanna is pregnant!!
Drake on the phone with Riri:" I know our relationship was Rocky but you moved on ASAP"😩😢 pic.twitter.com/koc9L6p7sF

— King of the Fall💜🌅メ𝑜 (@swiftxosinner) January 31, 2022
Drake has been smitten with Rihanna since 2005 when they had their first encounter on the "Pon de Replay" music video. Drake could scarcely camouflage his feelings for the heartbreaker RiRi. Though the two sparked dating rumors, he went on later to confess to The New York Times that he believed Rihanna used him.
"She's someone I've been in love with since I was 22 years old," he said during his acceptance speech as Rihanna looked on with an expression of bemusement instead of reciprocating love. "She's one of my best friends in the world."
As a result of Rihanna spurning his overtures, their friendship petered out in 2018, with Rihanna telling British Vogue, "We don't have a friendship now, but we're not enemies either."
Check out some of the Drake memes below:
Drake really thought he was gonna get Rihanna pregnant then Nicki Minaj…but ended up getting a porn star pregnant…

It beez like that sometimes pic.twitter.com/Wvd1z3jsMY

— 𝙲𝚘𝚘𝚕 𝙼𝚘𝚎 𝚅𝚎𝚎 (@GenocideCutt3r) January 31, 2022
Drake watching Nicki and Rihanna fall pregnant by other men:

— 𝚗𝚘 𝚠𝚊𝚑𝚊𝚕𝚞𝚛𝚍 (@LesegoMahlako) January 31, 2022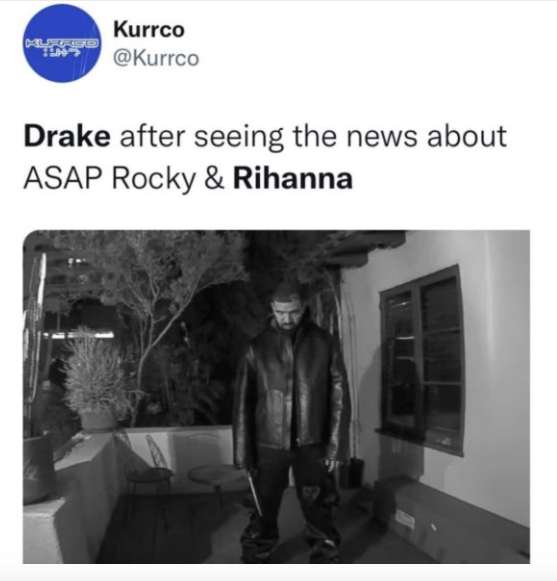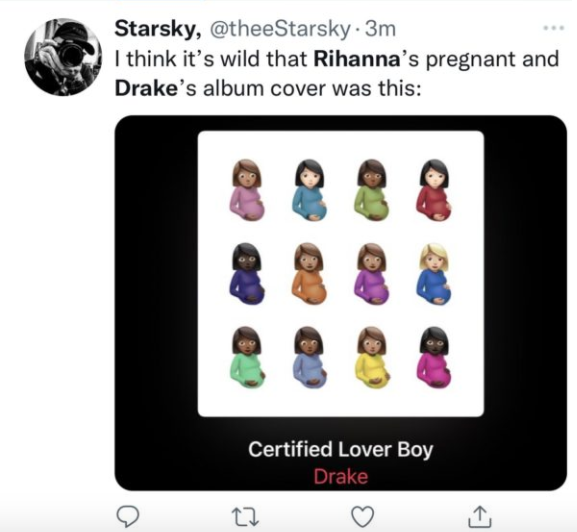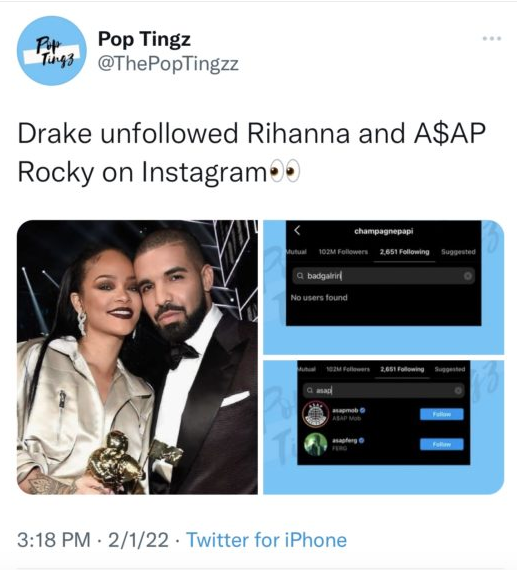 https://twitter.com/duaswh0re/status/1488178584493559809?ref_src=twsrc%5Etfw%7Ctwcamp%5Etweetembed%7Ctwterm%5E1488178584493559809%7Ctwgr%5E%7Ctwcon%5Es1_&ref_url=https%3A%2F%2Fwww.xxlmag.com%2Fdrake-memes-asap-rocky-rihanna-pregnant%2F