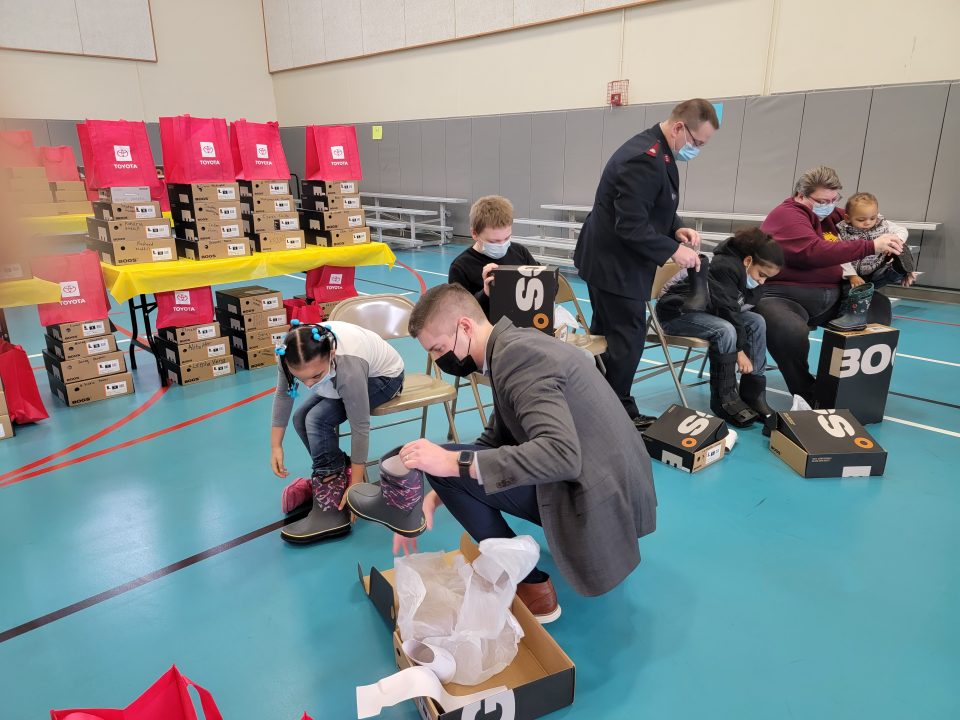 On Saturday, February 5, 2022, Toyota Motor North America stepped in to help shield Minneapolis families in need from the snow and cold through its "Walk In My Boots" community outreach program.  Held in partnership with The Salvation Army Northern Division, over 150 children and youth along with their families selected by The Salvation Army Parkview Worship & Service Center received new Bogs insulated winter boots and Smartwool socks, meant to protect a person's feet from harsh weather conditions. Toyota also gave a $15,000 donation to The Salvation Army Northern Division enabling them to continue to provide support for children and families in need.
"Many people know Toyota as a car company, but we're so much more than that," said Alva Adams Mason, group manager, Multicultural Business Alliance and Strategy; and Multicultural Dealer Development, Toyota Motor North America.  "We are passionate about serving in the communities where we live and work.  With so many people in need due to the recent pandemic crises, it's a major reason why Toyota continues to do whatever we can to ensure that people are getting the help they need.  We hope that our donation of winter boots and socks to the families will help to enrich their lives…one step at a time."
Winter in Minneapolis is characterized by cold, below freezing temperatures.  Snow is the main form of winter precipitation, but freezing rain, sleet, and occasional rain are all possible during the winter months.  Often, many low-income families do not have adequate clothing to fight the cold elements of a Minneapolis winter.  While many programs offer winter coat and hat giveaways, a person's feet are often left exposed to freezing temperatures which can be dangerous.  Frigid wind chills often felt in Minneapolis could cause frostbite on exposed skin in as little as 20 minutes.
Continue reading on the next page.