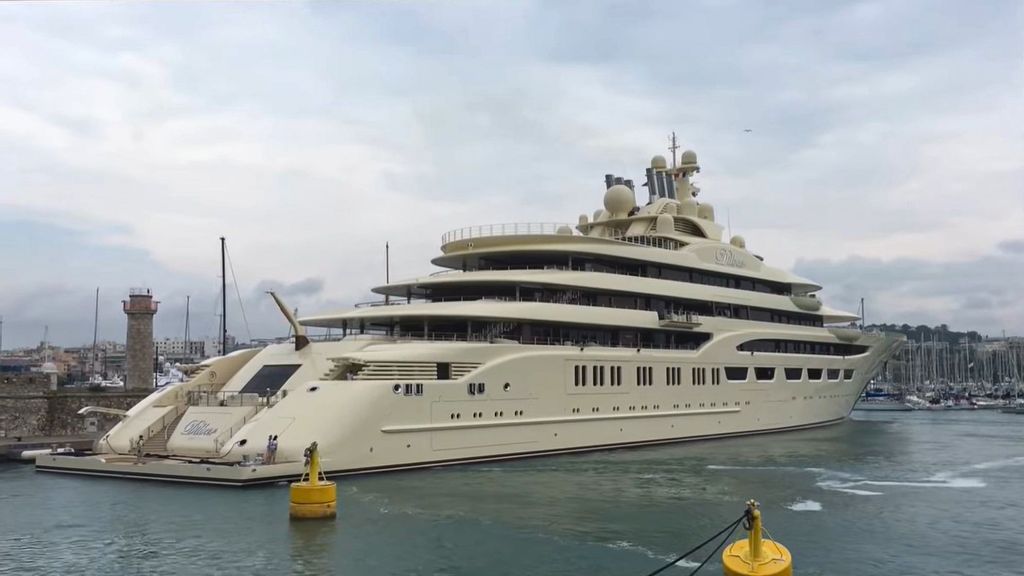 A sensational superyacht worth nearly 600 million dollars has been frozen by German authorities after they cracked the Russian-doll registration system concealing its oligarch links.
The yacht was frozen in the port of Hamburg, in northern Germany, after ownership was traced to Gulbakhor Ismailova, the sister of Russian billionaire Alisher Usmanov.
Usmanov, an influential Russian oligarch connected to Russian President Vladimir Putin, was subject to sanctions just days after Russian troops invaded Ukraine on February 24.
And his sister, Ismailova, was also placed under sanctions a few days ago.
After a lengthy investigation lasting more than a month, it is now understood that Usmanov transferred the yacht to his sister.
He then, through a complex daisy chain of shell companies and other bodies, managed to camouflage its ownership, making the task of establishing the vessel's true owner a challenge.
Usmanov reportedly transferred ownership of the Dilbar superyacht, worth 588 million dollars – making it one of the world's most expensive boats – to his sister in 2017.
She also reportedly owns a jet and a helicopter that have been linked to her billionaire brother.
Ismailova was born in Uzbekistan in 1959 and holds both Uzbek and Russian nationality.
She also reportedly owns luxury villas and properties in Sardinia, Croatia and Latvia worth millions.
The asset freeze on the boat comes after Hamburg first banned the luxurious vessel from leaving port on March 2.
Its crew was sacked on March 8, after the European Union first sanctioned Usmanov on February 28 over Putin's invasion of Ukraine.
The UK and the US then sanctioned the oligarch on March 3, with the EU sanctioning Ismailova on April 8, shortly followed by the UK applying its own sanctions on her.
The German Federal Criminal Police Office (BKA) has now reportedly established that the Dilbar is effectively owned by Ismailova.
The authorities have established that the Dilbar's immediate owner is Navis Marine Ltd., which is based in the Cayman Islands.
They then reportedly established that Navis Marine Ltd. is owned by the Cyprus-based Almenor Holdings Limited.
And Almenor Holdings Limited is reportedly itself owned by the Swiss-based Pomerol Capital SA, which reportedly holds the Almenor shares "in trust for the benefit of" another trust called the Sister Trust, which German investigators have reportedly confirmed is in Ismailova's name.
The BKA has announced that the now-frozen Dilbar can, as an asset, "no longer be sold, rented or encumbered".
The move comes after German media speculated at the beginning of March that the 156-meter-long (512-foot-long) asset would be frozen, but this initially failed to materialize due to the convoluted mechanisms employed to hide its true ownership.
This hurdle has now been overcome by the German authorities, and the Dilbar has also reportedly been placed in dry dock, according to reports in German media.
A dry dock is typically a narrow basin that can be flooded with or emptied of water. This effectively makes it physically impossible for anyone to sail it away.
The hunt for Russian oligarchs and their assets continues.
Recommended from our partners
The post Look At What We Yacht: 600-Million-Dollar Superyacht Frozen After Ownership Traced To Oligarchs Sister appeared first on Zenger News.