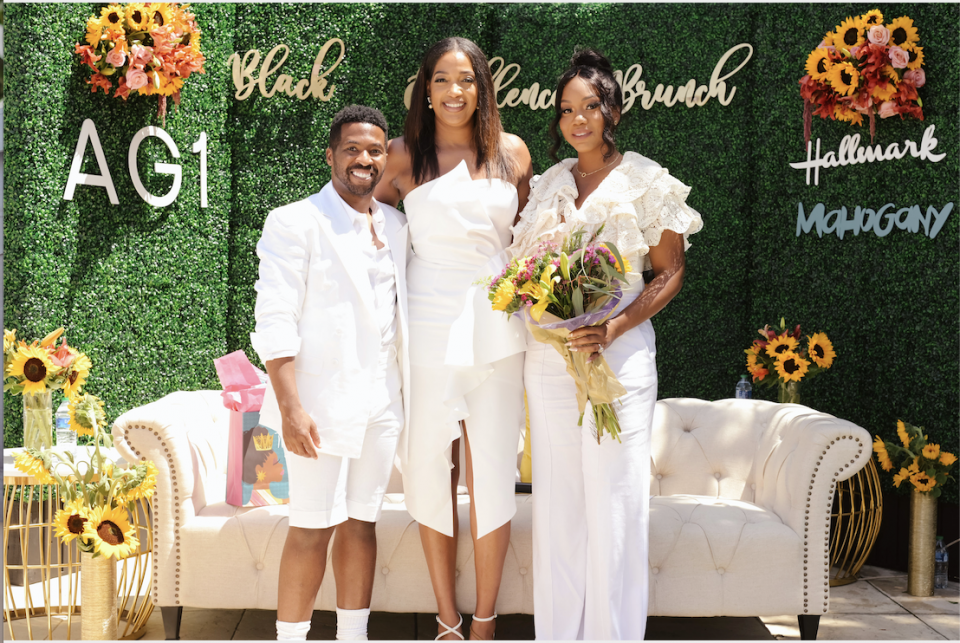 Mother's Day has always been a special time of the year, and 'The Black Excellence Brunch' founder Trell Williams, decided to recognize Black mother's with a special Mother's Day edition of his famed brunch. Featuring NY Times best-selling author Sarah Jakes Roberts as the special guest and Hallmark Mahogany as the presenting sponsor, the Black Excellence Brunch: Mother's Day Edition was held on Saturday, May 7, 2022 at an undisclosed mansion in the hills of Hollywood. From a welcoming violinist to a beautiful backdrop of the Hollywood Hills sign in the mansion's backyard, the brunch was an immense success and boasted of amazing, intelligent and gorgeous Black mom's donned in the brunch's signature all white attire. Additional brunch sponsors included Puma, AGI Greens Jack Daniels Hennessy.
The Black Excellence Brunch (BEB) was born out of a love for the southern tradition of Sunday Dinners. Founder Trell Thomas attributed his childhood days of growing up in South Carolina, where his mom would host Sunday dinner's every week, as one of the core reasons why the brunch was created. Thomas recollected "The Black Excellence Brunch wouldn't be what it is had it not been for Sunday dinner, which is a Southern tradition. My mom would host Sunday dinner's at her home every Sunday, and that's what The Black Excellence Brunch is, my version of Sunday dinner."
Alexis Kerr, VP of Hallmark Mahogany gave brief remarks before the brunch began. Kerr welcomed guests and announced some exciting, exclusive news, "[Hallmark] is doing amazing things and forging partnerships. I'm super excited to announce our first Hallmark Mahogany coming to the big screen in the fall on August 28." She went on to welcome "..all of the sisters who are mother's, who want to be mother's, who were mother's, who are the best, amazing aunties – like myself, and who are those trailblazers and lovers of kids, and caregivers: I salute you. We see you at Hallmark, and we absolutely love you." She ended her speech with letting all the women know that you can get all of your cards at HallmarkMahogany.com.
After brunch, special guest Sarah Jakes Roberts took to the stage. She spoke with hostess Moore about a range of topics, including her own Mother's Day plans, the love she has for her new husband, her not so spotless journey of becoming the woman she is today and so much more. She also had a special message for the mother's in attendance. She comically said "…forget these kids. They're trying to drive you crazy," to which the crowd erupted in laughter. She then went on to encourage them to take care of themselves and take part in self-care. She said, "I'm trying to help the mother's in my sphere of influencer to not feel guilt when you need to take care of yourself, and to communicate that to [your kids] so that they understand that it's ok for you to take care of yourself too." Jakes Roberts closed out her talk with graciously taking photos with the mother's and other women in attendance.
BJ the Chicago Kid served as the event's entertainment, and paid a special tribute to his mother who was in attendance. After the performance, all the women received a special gift from Puma: a complete warm-up suit, replete with Puma gym shoes and a Puma tote bag. Attendees also walked away with a Black Excellence Brunch tote, filled with Hallmark Mahogany cards and other goodies as well.
The Black Excellence Brunch occurs quarterly and you can keep up with their events via their FaceBook page or IG page: @BlackExcellenceBrunch.
Take a look at the gallery to see the beauty and excellence that attended. Photo gallery courtesy Trell Thomas.