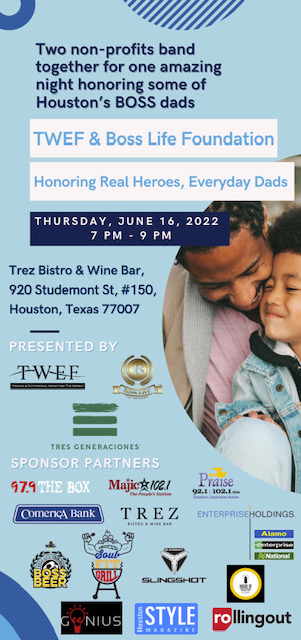 Texas Women's Empowerment Foundation (TWEF) BossLife Foundation joined together alongside Tres Generaciones to honor 10 Houston fathers. These are the "everyday dads" who go above and beyond for their families in times of peace and hardship.
The 10 fathers were honored on Thursday, June 16 at Trez Bistro & Wine Bar with a three-course meal, complimentary beverages courtesy of Tres Generaciones, swag bags filled with gifts fit for a king sponsored by Comerica Bank, an award, and several surprises. These two fathers' stories show the type of dads who were honored.
Ronny Roach 'Super Dad' –nominated by his son, Jayhlen Roach
"Dad got divorced when we were 6 years old and 18 months old. He became a single father raising two boys while working 60-plus hours a week on the railroad. Dad would work all day and then come home and spend time with us helping with our homework while trying to prepare a hot meal. Many times, I saw dad standing up at the stove sleep nearly burning himself trying to cook a hot meal.
"Dad would fall asleep in his chair and we would have to take his boots off and put his CPAP mask on him and he was so exhausted he never moved. I've seen dad eat tuna packs for lunch so we could have Chick-fil-A. Dad was and is a strong father who has never let us down! I hope to be like him someday. He wore cheap clothing so we could wear name brand and he didn't have a problem with it. His motto is 'Our life has to be better than his.' Dad is the greatest, period!"
Jesus Carias 'Everyday Dad' –nominated by son's best friend's mother, Detra Latin
"Jesus Carias deserves this nomination because he loves the hell out of my son. This is my son's best friend's dad and I appreciate this man tremendously! I left my son's father when he was 3 and so he didn't really have anyone to take up time with him. Ever since middle school, Mr. Carias, has been in my son's life showing and teaching him things and the love this man shows towards my son and the way he treats him as his own is amazing! I've told his wife if anything happens to me they were going to have to adopt my son the way they care so much about him. I promise you I really have no words because I be in awe. They love him and I love them for loving my son! Mr. Carias is an amazing guy and a terrific role model for my son!"