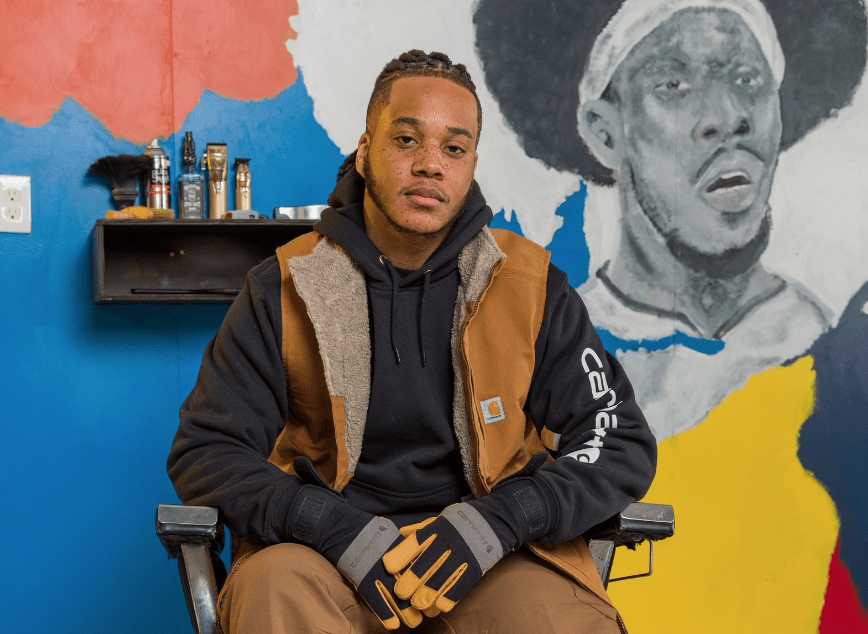 At just 20 years old, Jet Mitchell, the DIY set builder, photographer, and all-around creative, owns the largest creative studio in Detroit, The Creative Playground, which is just over 13,000 square feet.
How did you get your start as an entrepreneur?
When I was younger, my grandmother used to make me cut the grass. I was probably like 8 0r 9 years old. I did it until I was around 14. She used to always take 50% of my money, put it in the bank, and give 50% to me. And she would never pay me until the end of the month. I used to work every Saturday and could never miss a Saturday cutting grass.
So over time, I built that mindset of take this, put it here, take that and keep it. Then, eventually, she bought me a heat press and Cricut cutter. This is January 2017. And that was my first real business, making women's clothes. It was called "Young Millionaire's Club." 
What keeps you going when times get tough?
It's like, what are you willing to do to create a foundation? I always like to say the people in my community are like my kids, even though I'm like the youngest one, because I provide a space for them. And if they don't have a space, I feel like I let some[one] down. People can shoot wherever, but home is here for a reason.
So do you want to just let this go, because you know you don't need all this? Or do you want to be selfless and keep fighting, because you know that you can pave a foundation to put Detroit on the map of artistic innovation like Atlanta or New York?
Atlanta, New York, and LA provide more opportunities  because they have more resources. When you have a saturated amount of resources and opportunities, it's kind of a little harder for people to go against each other, when they realize that I'm in a place that has a lot of opportunities and resources.
The reason I started The Creative Playground is because we lack the resources to artistically innovate. Because we lack those spaces, we think close minded. We think, "Man, it's this green screen space downtown, I can't let anybody know about it." But if a lot of people know about that space, and a lot of people can blossom, how many more opportunities can that create for more people that want to blossom?
What is your ultimate goal as an entrepreneur?
 My end goal is to have acres of land. And I want to have different sound stages, but also help people provide a resource to do health and wellness, and also entertainment. So you have your studios, you have housing, you have trainers, like gyms, you can go to. And you also can have the Dave & Buster's, the Applebee's, all on acres of land. And it's all surrounded by different creators. It's only entrepreneurs there — that's what I'm going for.