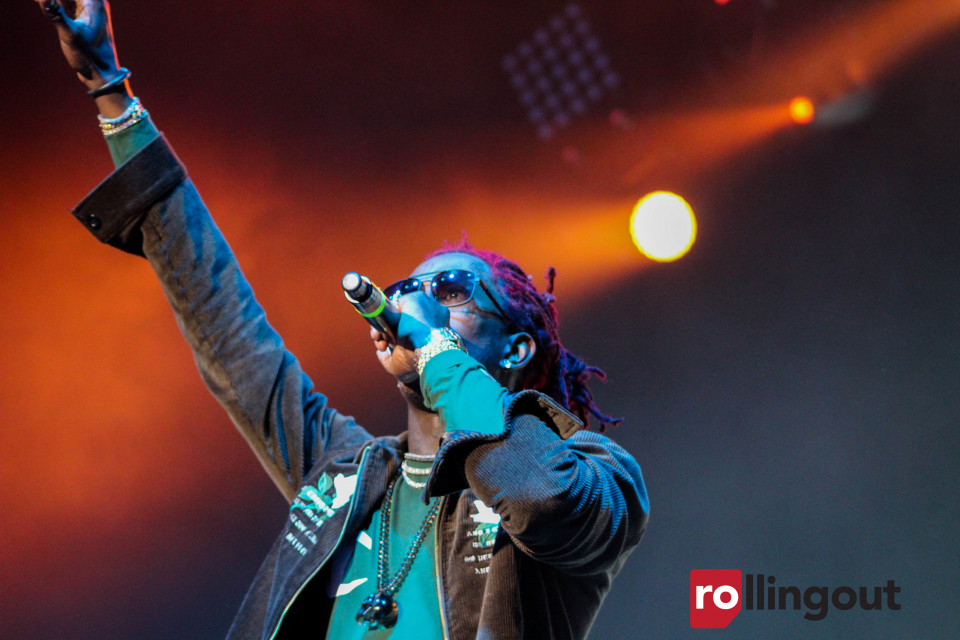 As rap star Young Thug continues to languish away in a Cobb County, Georgia, jail, he has indicated in words and a song that he has contemplated ending his life because of  his bleak circumstances.
Thugger and fellow rapper Gunna and more than two dozen members of the YSL group have been in jail for the past month on a score of felony charges, including the RICO statute, that could have them imprisoned for decades if they are convicted.
Gunner and Thugger have also been denied bond until their trial begins in January 2023. As a result, Thugger said his mental health has deteriorated to the point where he has had thoughts of ending his life rather than facing trial.
One of YSL's newest signees and nephew B Slime played Young Thug dropping a freestyle from behind bars that speaks to his dire legal entanglement. From his jail cell, Thugger popped off a freestyle while B Slime listened to it on his cellphone and then posted it to his Instagram page. 
"I'm just sitting here in my cell like, 'Damn, I'm really in jail' — God, give me another chance to show you I can prevail,I could put my arms from wall to wall inside this tiny-a– cell," Thugger rapped.
"I tried to cry but ain't nothing left. I contemplated doing myself, n—a. The most suicide deaths are in this jail. But let's not forget that this ain't hell."
Meanwhile, Thugger is imploring his fans and supporters to sign the Protect Black Art petition to stop prosecutors from using their lyrics against them during legal proceedings. Both Thugger and Gunna accuse the Fulton County, Georgia, district attorney of leveraging their lyrics as a way to paint a false narrative of them and further bolster their case.
In one of the songs, Thugger allegedly bragged about shooting at the mother of rival rapper YFN Lucci, who incidentally has also been jailed in Fulton County on similar charges and has been denied bond until trial.
If you or someone you know needs help, call the National Suicide Prevention Hotline at 1-800-273-8255.