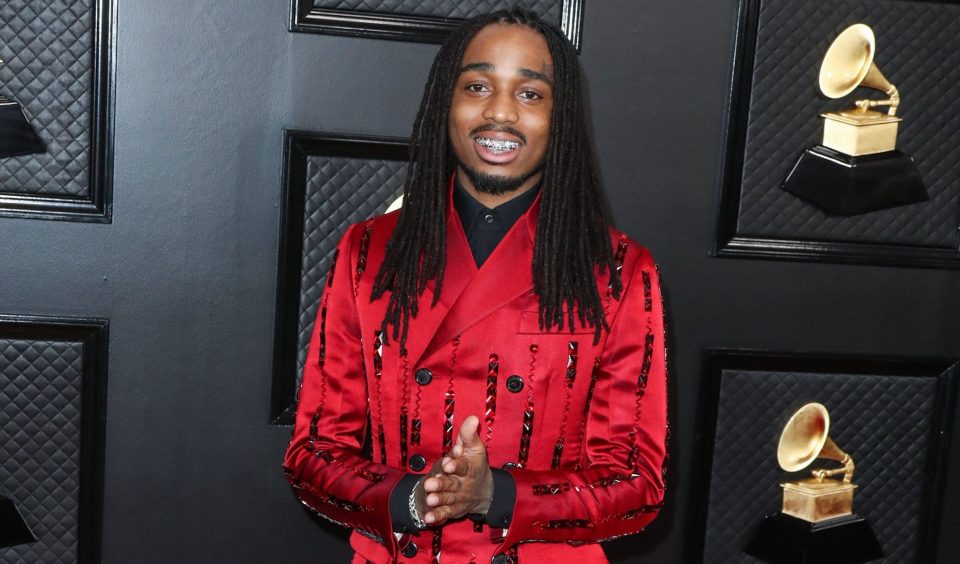 Quavo of the hit rap group Migos is taking a little heat from some fans after a barber he patronized made another customer get out of his chair when the hip-hop star walked in to get his mane managed.
To be fair, Big Chop King, who owns Diamond Cuts in metro Atlanta, had informed the client named Lance in advance that when Quavo walks in that the rap star would take priority and he'd have to give up the chair. 
Lance, a longtime client of the barbershop, agreed to the arrangement. So when Quavo waltzed through with his crew, Lance let out a laugh because he knew he'd have to vacate the chair so that Big Chop King could put in that work on Quavo's long locks.
Big Chop King also chuckled and then posted the episode for his 179K Instagram followers.
Not everyone found the humor in the lighthearted moment. Some fans took umbrage and claimed that Big Chop was allegedly clout chasing and being disrespectful to Lance.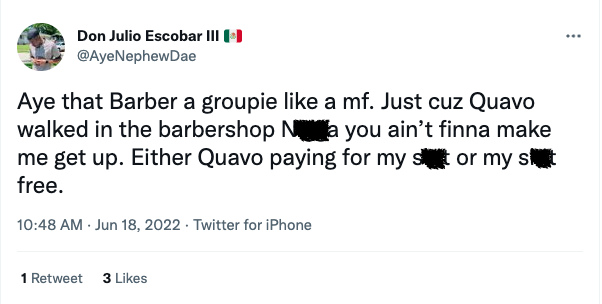 Making your client get out the chair mid cut cause Quavo walked in is wild lol y'all let barbers treat y'all any kind of way

— priceless pisces ✨ (@Cween_) June 18, 2022
Some folks, however, understood the situation and were sympathetic. Two of them said they would have done the same thing that Big Chop did.
I'm not gonna lie, as a barber, I would do the same, quavo 100% gonna pay me way more than bro in the chair, it's worth a lost client imo😭

— Joel (@47thLuna) June 18, 2022
Another fan was also supportive on Instagram added, "If there was communication and the customer is aware and understands..awesome sauce 🙂."
A third commenter said a similar situation happened with former NFL MVP quarterback Cam Newton and that the situation actually was a plus for the fan who had to get up to accommodate Newton: "🐐 🐐 🐐😂😂😂 I did this brodie with @cameron1newton and my man's (sic) was excited to get up and chop it up with Cam. Real ppl understand especially when you  COMMUNICATE🗣🗣🗣."
The positive thing for Big Chop the barber is that folks in the streets will know that he delivers righteous cuts to be attracting A-list clients.
Other fans, however, were adamant that it was a bad look for the barber. And the debate raged on.
Smh lol

Men are WORSE at "Worshipping" Rich Men (& being Golddiggers) than the Women they Complain abouthttps://t.co/goZVAII4zF

— Pharrell Season (@PharrellSeason) June 18, 2022
If my barber made me get out the chair cause quavo walked in.. last time I'd be there ever lol

— Elon Musk is my Big Bro 🤟🏽 (@KINGDOMJ06) June 18, 2022
I'd want my barber to eat from what Quavo will tip him but mid cut ?????? He better pay for my trim also 🤣

— ⚜️ (@TobiLogun) June 18, 2022
How Quavo pulled up to the barbershop without an appointment knowing that somebody is getting kicked out the chair pic.twitter.com/lilwee0Eb2 https://t.co/UbHw8IfUbA

— Rich (@UptownDC_Rich) June 18, 2022