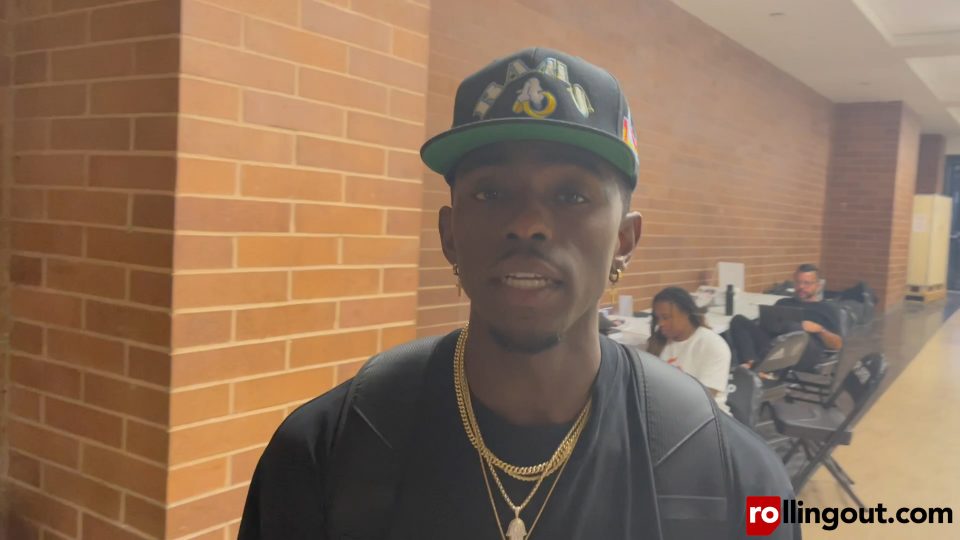 Franklin "Frank Nitty" Session never wanted to play in the NBA.
"I've always wanted to take care of my family, whatever that is," Nitty told rolling out. "That's why I got a nine to five. If I wanted the NBA back then, I would've worked my a– off, did everything I could in the gym, not have gotten a nine to five. [I would have] tried to be in the league, but I didn't want to do that."
Nitty recently played in Los Angeles' historic Drew League because he loves playing the game of basketball. His [passion for the game] however, stood out among every other player in pro-am leagues. Thanks to the Drew League many NBA superstars have worked with league players including, Kobe Bryant, James Harden, DeMar DeRozan and LaMelo Ball. With the exception of Bryant, who scored 45 points in 2011, Nitty has been able to hold his own against most NBA opponents. One of those moments came in 2018 when he shut down former Chicago Bull Denzel Valentine.
Nitty went on to win the Drew League MVP honor three times. He earned NBA co-signs from superstars Kevin Durant, Damian Lillard and James Harden. Basketball celebrities paid attention, like Los Angeles Lakers assistant coach Phil Handy.
As Nitty's viral status went up and he stayed after every game taking on-court pictures with fans and opposing players, he still worked his nine-to-five day job as a cell phone salesman.
"I was a cell phone salesman for five and a half, six years," Nitty told rolling out. "Basketball wasn't really paying the bills. They were trying to give me like $3,000-$4,000 a month to go overseas. I wasn't doing that. I got a family and at that time I had a condo. I bought a house from working my nine to five."
And then his wise wife gave him a life-shifting mandate.
"Go chase your dream," Nitty recalled.
Now, Nitty makes a comfortable living from playing in Ice Cube's Big3 Tournament, social-media endorsement deals, modeling and streaming on his Franknitty Twitch page. He was also scheduled to appear in the White Man Can't Jump reboot starring Jack Harlow, but he missed the shooting days due to contracting COVID.
"I tell people to this day if this s— ever doesn't work out, I can go back to get a normal job at any point," Nitty said. "I'm not ashamed of that. Whatever I got to do to put money on a table for the fam, I will do that. All I've ever wanted to do was take care of the family no matter what that is. If that's basketball here, overseas, or working on a none-to-five, it didn't matter, man. That was my main goal."