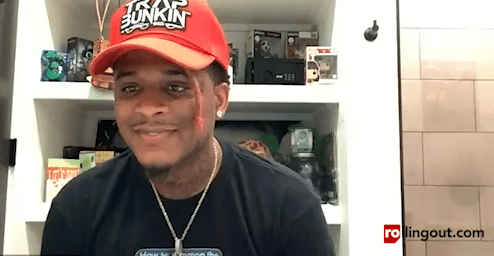 The city of Atlanta is known for clubbing and partying, so you should expect rappers to make music that goes with that vibe. That's where T-Hood comes in, an Atlanta rapper that's all about being the life of the party, turning up in the clubs, and getting everybody hyped.
T-Hood spoke with rolling out about what inspired him to start making music and what he brings to Atlanta hip-hop.
Why did you start rapping?
Usually, everybody wants to be a musician, and they've been doing it for their whole life. That inspired me to get into music. I started doing music coming out of high school, and I was doing teen parties and stuff like that. I didn't really take it seriously until like maybe five or six years ago, and honestly, I can say I wasn't even taking it that seriously back then either.
What do you think makes Atlanta music so popular?
Everybody loves Atlanta because it's so raw and the music scene revolves around the strip club. So when everybody's coming from out of town spending their out-of-town money in the strip clubs and playing the best underground, up-and-coming hot s—, it gets no better. Atlanta is the wave, people come here and have fun. You see people shutting down the highways, doing donuts on the highway, and all kinds of stuff, it's been like that since like the early 90s when "Hotlanta" was a thing. This goes way back to Kilo Ali and all those people around that time and what they did for the culture. I used to listen to Kilo Ali and Pastor Troy when I was coming up, I wasn't on to most of the other stuff.
How would you describe your music?
I would describe it as a freaky trap. I revolve my music around fun, life, getting money, and beautiful girls. I try to promote positivity in my music as well. I just like to have fun. I've already done all the gangster rap, so now it's time to go ahead and switch it up and show them more of my personality on what I have on the other side. Everybody can be from the streets, but can you be a fun guy? Can you get into a room full of girls and be the life of the party? Everybody can't do that. That's why the music I make now is like dance music, party music, strip club music, and trap music type, but all of that is fun.