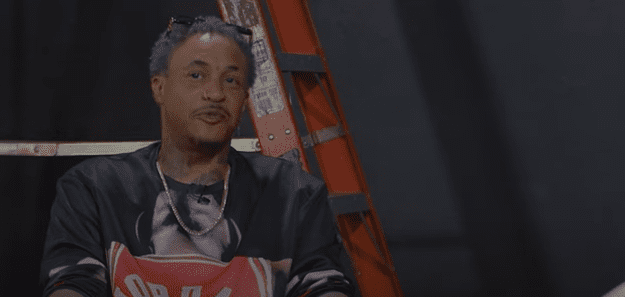 Fans showed significant concern for former "That's So Raven" star Orlando Brown after he used vulgar terms to say that rapper Bow Wow has remarkable sexual attributes during a recent interview.
During the sit-down that quickly went viral with 270K views in 24 hours, the troubled actor told Funny Marco that Bow Wow "got some bomb a– p—-" in what appeared to be a planned comedy bit.
#OrlandoBrown speaks on his relationship with #BowWow 😂pic.twitter.com/FGs5dR9xXI

— No Jumper (@nojumper) July 13, 2022
The interview, however, is leading many fans to fear that Brown has reverted back to his troubled days of chronic drug use, bizarre behavior and multiple jail stints.
"I ain't got no problem with Bow Wow," Brown responded when Funny Marco asked if he had beef with the Bow Wow who was once the star host of BET's "106 & Park."
"Bow Wow got a bomb ass p—-."
Fans were nevertheless alarmed because, during his drug-filled days, Brown made similar comments about television personality and host Nick Cannon. Fans may recall that back in 2020, the "Wild 'N Out" creator said he was praying for Brown after he claimed Cannon gave him oral sex.
Brown is reportedly recovering from his darker days. But whether this interview was real or not, many fans were not amused and sounded off on social media.
Now why y'all keep interviewing and exploiting the Ill! 🤦🏾‍♂️#OrlandoBrown pic.twitter.com/y6kJk7L2FJ

— All Tea All Shade (@TeaTimeTips2) July 13, 2022
His life is so sad to me. He has some serious mental health issues and I wish there were ppl in his corner that could get him the help that he needs. I would love to see him back on track. May GOD bless him. #orlandobrown

— Kelsey (@AdoreMy_Essence) July 13, 2022
Why are ppl laughing about #OrlandoBrown ? He's clearly unwell. Then as soon as something bad happen it's "oh wow i remember those interviews" blah blah blah. We clown our own… THE WORST!

— Shar (@Miss_Sharr) July 13, 2022
I know y'all saw this foolery 🤣🤣🤣💀💀💀#OrlandoBrown #Bowwow #106park #culture #Explore #Fyp #Viral pic.twitter.com/3476KWoB6Y

— Jamarcus Demontrel (@Jaydemontrel) July 13, 2022
🤨🤨🤔🤔🤐🤐😕😕Drugs and unresolved personal issues are not a good Mixture 💯, 1 of my female friends met him at bar 6 years ago she gave him a ride home and said ,. There sumthing off with that dude ,🤨🤔, God bless him 💯🙏🙏🙏 #orlandobrown https://t.co/dEEllzL0kn

— FromDena🌹 (@E05433456) July 13, 2022
🥴🫤 I'm so confused cause what does that even mean….Bow wow got what now?? #OrlandoBrown pic.twitter.com/4ZIKvTK1wc

— Drea 💫 (@PrettyDrea_223) July 13, 2022
Bow Wow gon be disappointed when wake up and find out why he trending 🫢. #BowWow #OrlandoBrown https://t.co/B0O8sldm4r

— CHILE, lemme get tf up outta here….. (@kountryboyy_) July 13, 2022
Many fans on YouTube felt differently after viewing the entirety of the "interview" with comedian Funny Marco.
"I couldn't tell if this was mad disrespectful or hilarious. ORLANDO IS HILARIOUS!" exclaimed one fan, while another observer added: "This is f—— hilarious 😂 😂😂😂. Somebody needs to put Orlando in a movie or sitcom."
"Y'all can't tell that Orlando is trolling?!😂 this is hilarious," said another respondent while others called the statement classic. "This was instantly ICONIC give this man and Marco a show."
"Everyone came here for the Bow Wow snippet, but this interview is actually hilarious 😂🤣," another person said.
Take a look at the interview below.