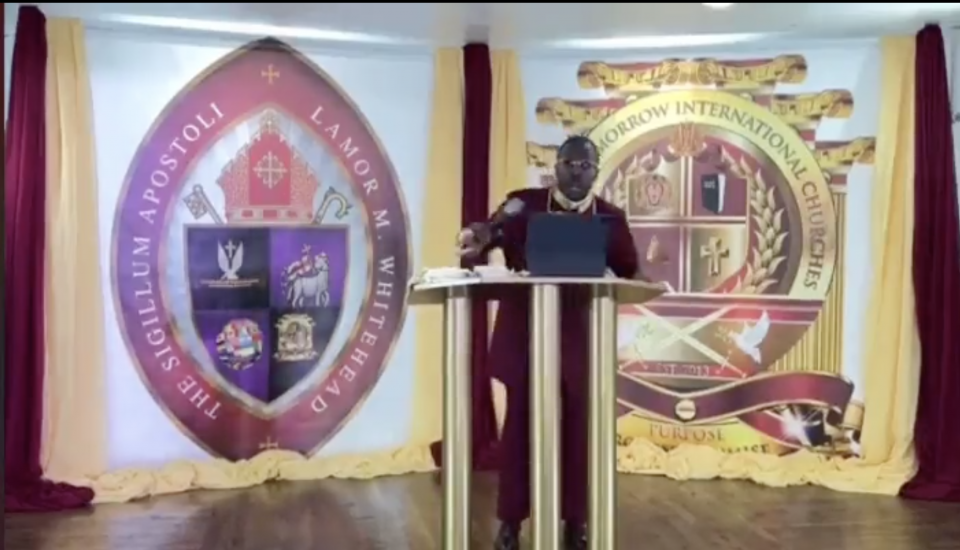 A video of a Brooklyn, New York, pastor getting robbed during his sermon has gone viral.
Bishop Lamor Whitehead is known for showing off his luxurious items around New York, as he does real estate on the side. He drives a Rolls-Royce and wears lots of jewelry, including while in the pulpit.
— PGD (@PGradDepression) July 25, 2022
Around 11:14 a.m. on July 24 at Leaders of Tomorrow International Ministries, two masked suspects are shown on the church's livestream video walking up to the pulpit as Whitehead raised his hands, then lay facedown on the floor.
The two suspects took more than $1M worth of jewelry from the bishop, his wife and possibly other churchgoers, according to media reports.
#Breakingnews
This morning , Gun point robbery took place a church at 922 Remsen Avenue in Brooklyn NY , they robbed jewelry from the church goers including the pastor and fled in a Benz. The NYPD is investigating this at the moment #Newsnight #weekend #Church pic.twitter.com/8rZf8jyDUl

— Viral News NY (@ViralNewsNYC) July 24, 2022
Whitehead made a video later in the day addressing the situation.
"These young men didn't know that we had cameras recording them," Whitehead said. "We know what car they were driving. They were driving a white Mercedes CLA Benz, and we also know you switched your clothes in the car because I ran after you."
Bishop Lamor Miller-Whitehead gives a first hand account of the robbery at his church #bishoplamormillerwhitehead pic.twitter.com/EsTUbqslTg

— Breakingtrendsnews (@Breakingtrends1) July 25, 2022