For Southern HIV/AIDS Awareness Day, Gilead is hosting an intimate conversation about sexual health and social justice on Aug. 17 from 6:00 pm to 8:30 pm at The Gathering Spot in Atlanta. The conversation will include Grammy-award-winning singer Kandi Burruss and the founder of SisterLove, Inc. Dázon Dixon Diallo.
Here are five reasons why you should attend the event.
Healthy dialogue
In the times we live in now, hearing conversations about what's plaguing our community is good information to keep on top of. Sex education needs to be ongoing, and when it comes to HIV/AIDS, more people need to be educated. Social justice is another issue that has to be seriously addressed, particularly problems surrounding race and discrimination.
Key speakers
Kandi Burruss is known for her community work and is a supporter of organizations addressing the HIV/AIDS epidemic in the south. Dázon Dixon Diallo is the founder of one of the oldest women-centered HIV and sexual reproductive justice advocacy organizations in Atlanta and the Southeast. These two women are here for a cause and are major influencers in the community health and wellness space.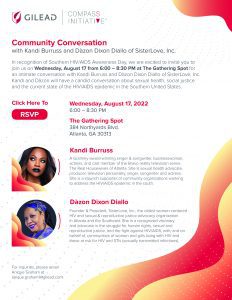 Networking
Attending events provides a wealth of opportunities to network with people with similar interests. The adage "Your network is your net worth," is tried and true.
Raising awareness  
One of the major issues surrounding HIV/AIDs is proper information.  Contrary to what many may think HIV/AIDs is not a death sentence, Medical professionals and advocates at the event can help you understand more about diagnosing, testing, and protection and prevention. The more that people are educated and aware, the more impactful it can be for the community.
Showing support 
If you have a friend or family member that was diagnosed with HIV/AIDS and don't know how to support them, this could be an event to help explore ways to be an asset in that person's life. Sometimes, all people want is support, and you can be that support.