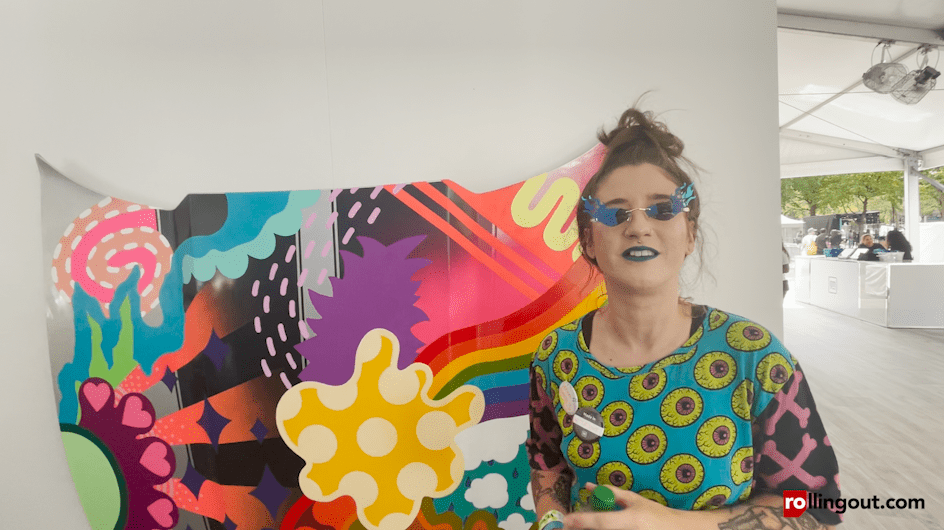 Shaina Kasztelan is an artist from Detroit who had the opportunity to showcase her work for General Motors at the Made in America festival.
Kasztelan spoke with rolling out about the inspiration behind her work and how it feels to be a part of Detroit's art culture.
What was the inspiration behind your painting?
I am from Detroit, and in my neighborhood there are just so many unique people, buildings, and businesses. Everyone's got their own personal style, their own story, and history that makes them so unique. I love getting to know people and what makes them tick, so with abstract art, you are oftentimes representing a feeling instead of drawing something that already exists. Each one of the little sections that were drawn represents a unique individual in my community, and by themselves they have their own style. We are brought together to make a beautiful composition, and it's all about connections and being a good neighbor, and coming together to create.
What do you think makes your work stand out?
As you can tell, I have my own personal style. I'm a collector of things. I love antiques, oddities, and weird stuff. I'm a Halloween person. While my general interests are definitely very similar to a lot of people, it's kind of within that niche realm. I think that within my art, it's very colorful and psychedelic, so I think when people see my stuff, and even without knowing it's me, they're always like "Yeah, that's her work."
How does it feel to be a part of Detroit's culture?
It feels crazy that they picked me because there are so many talented people in Detroit. There are so many wonderful muralist and sculpture people and so many cool, different things going on. There's something for everybody. The thing for me is I need to have fun to create, and there's always something to do in Detroit. People always want to talk and get to know you, so that really fuels my inspiration.