Music impresario Diddy blew his twin daughters away when he surprised them with extremely grandiose gifts for their sweet 16 birthday party.
D'Lila and Jessie Combs screamed with glee and covered their mouths in shock when the Bad Boy boss playfully ambushed them with gift-wrapped matching Range Rovers for each of them.
Rapper Diddy surprises his twins with Range Rovers on 16th Birthday

American rapper, Sean Combs aka Diddy, has gifted his twin daughters, D'Lila and Jessie, with matching Range Rovers, on their 16th birthday. pic.twitter.com/iTIqUJKOc8

— Vanguard Newspapers (@vanguardngrnews) December 19, 2022
Vanguard Newspapers did not reveal the exact costs of the pair of luxury SUVs, but 2022 Range Rovers are reportedly priced between $44K on the lower end, up to $215K.
While this is an exorbitant purchase for mere mortals, this almost amounts to petty cash for Diddy as Forbes magazine estimated his total worth as being north of $1 billion in 2022.
Once the euphoria of the moment subsided, the twins and their guests were treated to an exclusive futuristic party at the undisclosed location.
The twins also shared photos from their party as they flossed matching outfits and posted them on Instagram.

The blissful celebration comes just five days after the twins lamented the loss of their biological mother, Kim Porter, who succumbed to a severe lung infection caused by pneumonia in November 2018. The pair posted a poignant photo collage of Porter on IG that included the other children.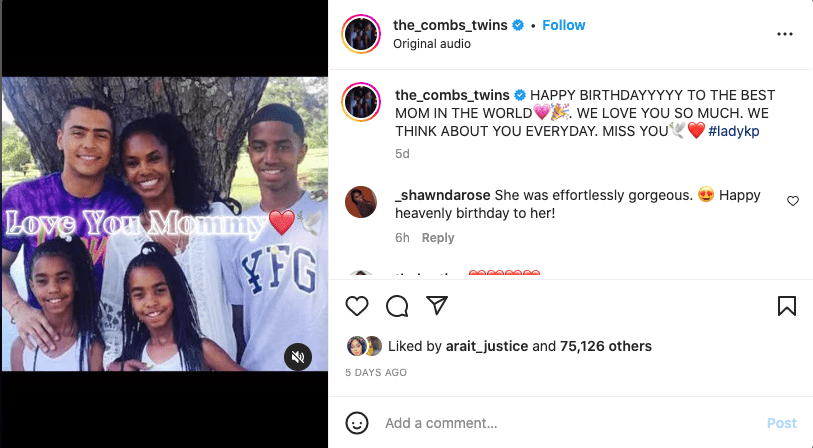 Diddy is also the father to two other children with Porter: Quincy, 31, whom he adopted and whose bio dad is singer Al B. Sure!, and King Combs, 24. Diddy also shares Chance, 16, with Sarah Chapman, and Justin, 28, with Misa Hylton. And on Dec. 10, Diddy announced the arrival of his seventh child, Love Sean Combs.