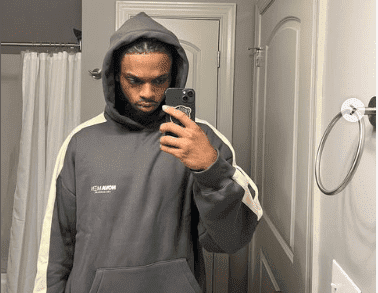 As the sports world continues to blanket Buffalo Bills defensive back Damar Hamlin with love and prayers, a family member indicated that there was slight improvement in his condition.
Hamlin was seriously injured when he collided with Cincinnati Bengals Tee Higgins during a seemingly routine catch and tackle. Somehow, Hamlin's heart suffered what a CNN medical analyst t theorized as "blunt force trauma" at the precise time when Higgins' shoulder rammed into Hamlin's chest.
According to NFL.com, Hamlin's uncle, Dorrian Glenn, stated that the athlete is still under sedation after being resuscitated twice. He is currently at the University of Cincinnati Hospital where he remains in critical condition. 
"His heart had [gone out] so they had to resuscitate him twice. They resuscitated him on the field before they brought him to the hospital, and then they resuscitated him a second time when they got him to the hospital," Glenn told the media outlet outside the hospital.
Such an important message here from the uncle of Demar Hamlin. pic.twitter.com/TlgMyZ8gGs

— Dovi Safier (@safier) January 4, 2023
Hamlin has experienced slight progress and now breathes at a 50 percent oxygen capacity, a rise from needing 100 percent oxygen to keep him breathing.
"They sedated him just to give a better chance for him to just continue to heal better. We are just taking it day by day. It seems like he's trending upwards in a positive way," Glenn added on the sports network.
Meanwhile, teammates such as Stefon Diggs and fans visited UCH to either participate in a vigil or to personally check on Hamlin's progress.
Stefon Diggs heads to the hospital to be with Demar Hamlin 🙏🏽🙏🏽🙏🏽🙏🏽 pic.twitter.com/UrQm9Rbs4N

— NFL Daily (@SportsContent23) January 3, 2023
The Buffalo Bills organization is doing what it can to keep well-wishers abreast of the latest medical developments.
Damar Hamlin suffered a cardiac arrest following a hit in our game versus the Bengals. His heartbeat was restored on the field and he was transferred to the UC Medical Center for further testing and treatment. He is currently sedated and listed in critical condition.

— Buffalo Bills (@BuffaloBills) January 3, 2023
In related news, the toy drive that Hamlin's camp originated, which had a very modest goal of raising $2500, has now surpassed the $6 million mark, a bright development amid the grim news.
Damar Hamlin's toy drive on GoFundMe has now raised over $6 Million in 2 days. Continuing to keep him in our prayers 🙏 pic.twitter.com/o4TlXxFHKf

— Daily Loud (@DailyLoud) January 4, 2023