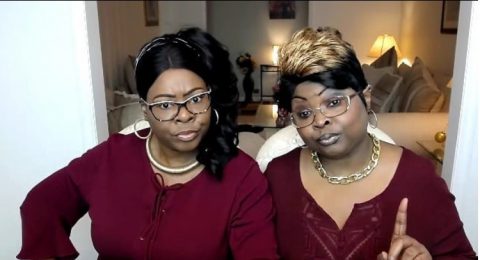 Lynette "Diamond" Hardaway, one-half of the sassy conservative group Diamond and Silk that angered Blacks with their allegiance to former President Donald Trump, has died suddenly. She was 51.
Trump alerted his supporters on his "Truth Social" website that Hardaway "passed away at her home" on Monday, Jan. 9, 2023. He did not specify what precipitated her death.
Not long afterward, the official Twitter site for Diamond and Silk confirmed the news, stating that the world has "just lost a True Angel and Warrior Patriot."
The World just lost a True Angel and Warrior Patriot for Freedom, Love, and Humanity! Please respect the privacy of Diamond's family! Memorial Ceremony TBA.

Contributions towards Preserving Diamond's Legacy are only being accepted at the following link:https://t.co/g6J6NlBXE7

— Diamond and Silk® (@DiamondandSilk) January 10, 2023
As the duo "Diamond and Silk," Hardaway and Richardson soared to national fame with their staunch conservatism and resolute support for Trump during his 2016 presidential run. They had just bestowed their rousing endorsement for Trump's presidential run for 2024.
President Trump has our full and complete endorsement!#Trump2024 pic.twitter.com/D99HqjeuRg

— Diamond and Silk® (@DiamondandSilk) November 16, 2022
Trump heaped effusive praise as he memorialized Hardaway, who frequently appeared at Trump rallies with her sister, Rochelle "Silk" Richardson. 
At the summit of their fame, the duo had scored a gig as contributors to the Fox News network, but they were soon banished after peddling mistruths and conspiracies about COVID-19. From there, the women found a home on the fringe network Newsmax with their own show, "Diamond and Silk: Crystal Clear."
Amid their ignominious fall from grace, Trump remained a fan of the pair.
"Diamond's death was totally unexpected, probably her big and precious HEART just plain gave out," Trump penned on his website.
In November 2022, the duo informed their two million Twitter followers that Hardaway was ill but did not elaborate. Hardaway, however, returned to the show in December and deflected claims she had been hospitalized with the coronavirus as "fake news."
Hardaway taped her final episode of "Diamond and Silk" on Dec. 15, 2022.