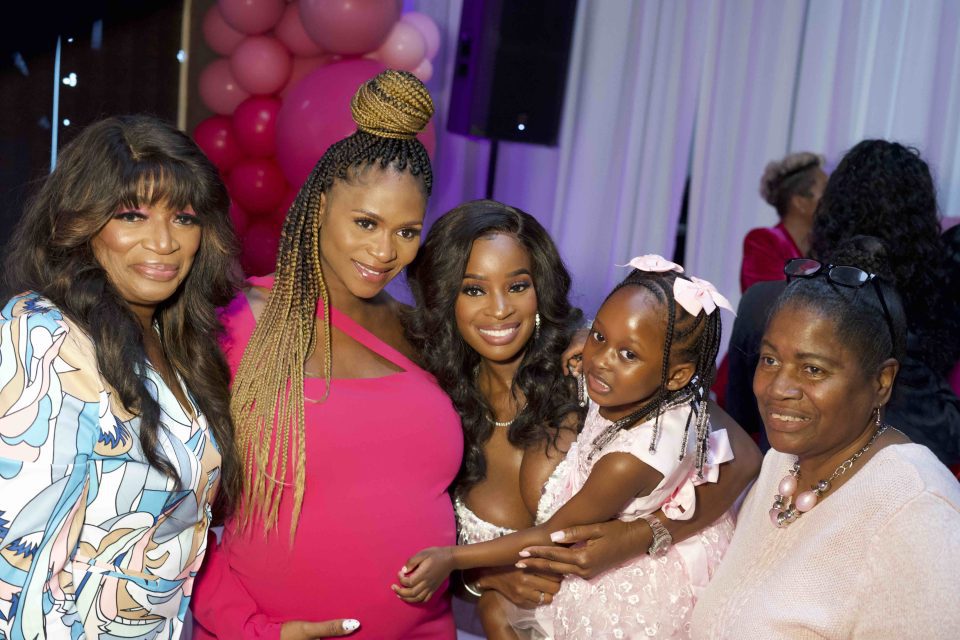 Shamea Morton announced her surrogacy journey in October 2022 on V103 radio where she is a co-host on the "Bigger Tigger" morning show along with comedienne Ms. Pat. Since Shamea Morton and her husband Gerald Mwinge decided to use a surrogate, Morton has been very transparent with the details of the process. Friends and family were shocked when Shamea Morton announced she would be moving her baby shower date due to her surrogate Shadina Blunt's recent breast cancer diagnosis.
Baby Shiloh's celebration shower that took place on Super Bowl Sunday was overwhelming for Morton.  She was emotionally moved by the love and support of all her family and friends who immediately adjusted their schedules to help her celebrate Baby Shiloh's early arrival.  During the shower, Morton gave an emotional expression of gratitude for her surrogate because in the course of her learning about her breast cancer, she was also concerned with inducing labor in order to deliver a healthy baby to the Mwinge family.
Toya Johnson-Rushing reminded the soon-to-be mommy to, "not forget that you have also always been there for us as well." Shadina Blunt is set to deliver Baby Shiloh no later than Tuesday, Feb. 14 on Valentine's Day with the help of celebrity physician Dr. Jackie Walters from Bravo TV's "Married to Medicine." There were approximately two hundred-plus guests on-hand to experience this joyous occasion.
Guests included Atlanta Hawks cheerleaders who've been waving their pom poms for Shamea Morton inside the arena and outside in the streets for years; Kandi Burruss, Leah Huggar, Cynthia Bailey, Eboni Electra, Chanita Foster, Erica Dixon, Ming Lee, Sheree Whitfield, Rashida Frost, Yandy Smith, Shamea's immediate family members, the surrogate Shadina Blunt, Gosha Hawkins, FreddyO, the V103 family, comedianne Ms. Pat, and a host of friends. Music was provided by DJ Jelly and a live violinist.