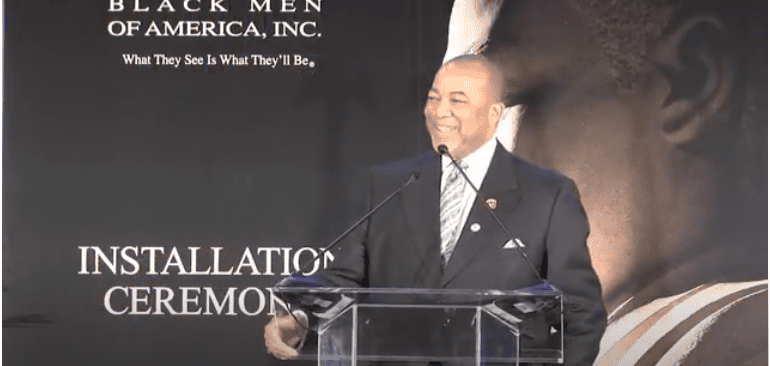 Tributes are pouring in from every corner of the Atlanta metro region and around Georgia immediately after learning that business legend and 100 Black Men of America chairman Tommy Dortch died on Wednesday, Feb. 15, 2023. He was 72.
The celebration of the life of Thomas W. Dortch Jr. has commenced from his multitude of contemporaries, colleagues and admirers who looked up to the trailblazing icon who was the owner of the influential firm TWD Inc. was a tireless philanthropist and a seminal civic leader.
U.S. Sen. Raphael Warnock and the Atlanta City Council heaped effusive praise on the indelible legacy that Dortch built in Atlanta. And U.S. Congressman Hank Johnson had just recently campaigned for Dortch to receive the Congressional Medal of Honor for his illustrious and influential career.
Deeply saddened to hear my friend Thomas "Tommy" Dortch, Jr. of @100BlackMen has passed away.
⁰He was a trailblazer whose decades of leadership in the community moved Georgia forward and paved the way for so many who have come behind him.
⁰Praying for his family & many friends.

— Senator Reverend Raphael Warnock (@SenatorWarnock) February 15, 2023
Proud to support the effort to recognize GA's-own @thomasdortchjr w/ the Congressional Gold Medal. His example and legacy have and will continue to resonate profoundly. @100blackmen @nbcahalloffame pic.twitter.com/cjEVHZeB78

— Rep. Hank Johnson (@RepHankJohnson) February 9, 2023
The Atlanta City Council praised the Georgia-born Dortch and graduate of Fort Valley State University, who dedicated his life to providing opportunities and uplifting and inspiring others to greatness. Last year, the city of Atlanta declared Nov. 7 as "Thomas W. Dortch Jr. Day" to commemorate the work he had done with 100 Black Men of America Inc. He is also being praised for the work he had done with the Atlanta Business League, the Democratic Party and countless other organizations and causes.
"It was clear Thomas Dortch Jr. loved his community, which is why he worked so hard for it. He was a trailblazer, a community advocate, and a renowned speaker with a sharp intellect and a public servant's heart," read a statement from the Atlanta City Council that was obtained by MSN.com. "As we reflect on his life, we extend our most heartfelt condolences to his family and friends. The city of Atlanta will miss his inspiring example, but his life and his service to the community will always be celebrated and remembered."
Atlanta's District 3 Council member Byron Amos also issued the following statement in remembrance of Dortch:
"I grieve today for the loss of an Atlanta icon, Mr. Thomas W. Dortch Jr., affectionately known as 'Tommy.' The owner of many successful businesses, including TWD Inc., Tommy lived a life of service that transversed continents. As the former national chairman of the 100 Black Men of America Inc., Tommy ushered in a standard of service that resonated throughout the organization. For more than 60 years, Tommy worked to improve the city's economic, educational, and youth initiatives with the goal of advancing equity for African Americans. Today, we honor his life and legacy and salute him for his years of service and dedication to the city of Atlanta. Each day, his tireless work sought to build Atlanta into the beloved community that Dr. King often discussed and for that, we are thankful. He will be sorely missed."
Other esteemed members of the Atlanta metro region offered condolences to Dortch's family while simultaneously saluting him for his career achievements.