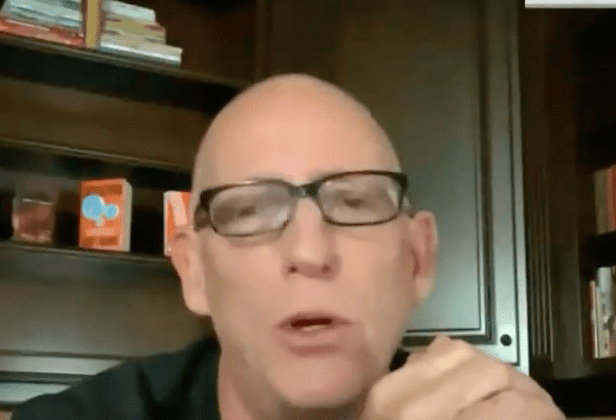 Longtime cartoonist Scott Adams, the creator of the "Dilbert" comic strip, has been dropped by hundreds of newspapers after he called Black Americans "a hate group" and warned White people to "get the h— way from" them.
Gannett, which publishes USA Today along which hundreds of other newspapers, summarily canceled the long-running comic strip created by the 65-year-old Adams. The Washington Post, The New York Times, and The Plain Dealer in Cleveland are among the publications which followed suit in snatching Adams' strip out of rotation, CNN and NPR report. 
CNN and NPR stated that Adams, on his YouTube show "Real Coffee with Scott Adams," referred to a poll of 1,000 respondents conducted by conservative outfit Rasmussen Reports. The poll allegedly asked "Is it okay to be white?" with Rasmussen reporting that 26 percent of the Black respondents said, "no" while another 21 percent allegedly responded that they "weren't sure."
Based on what was stated in the Rasmussen Reports, which has been reportedly known to espouse White supremacist rhetoric, Adams tore into Black people during an irrational tirade.
"It turns out that nearly half of that team doesn't think I'm okay to be White. I'm going to back off from being helpful to Black America because it doesn't seem like it pays off," he said, adding that he was going to re-identify as a White man. "I get called a racist. That's the only outcome. It makes no sense to help Black Americans if you're White. It's over. Don't even think it's worth trying."
Adams then used this singular report from Rasmussen to justify never coming in contact with Black Americans ever again.
"I don't want to have anything to do with them," Adams raged on. "And I would say, based on the current way things are going, the best advice I would give to White people is to get the hell away from Black people, just get the f— away … because there is no fixing this."
Adams has since said on Twitter that he was simply "advising people to avoid hate" and laughably decried the cancellation of his cartoon which is an infringement on his First Amendment privileges. 
A group of newspapers and other publications explained why they removed Adams, with Chris Quinn, editor of The Plain Dealer in Cleveland summarizing their overall sentiment toward Adams. 
"Scott Adams, the creator of the Dilbert comic strip, went on a racist rant this week … and we will no longer carry his comic strip in The Plain Dealer," "This is not a difficult decision," Quinn said. "We are not a home for those who espouse racism," We certainly do not want to provide them with financial support."
Famously caustic comedian D.L. Hughley noted how Adams and Twitter owner Elan Musk adopted the victim stance after the nationwide newspaper backlash to Adams' diatribe against Blacks.
So let me get this straight #ElonMusk thinks the media is racist against white people cuz they severed ties with cartoonist #ScottAdams who went on an hour long racist rant about black people? Got it! #TeamDl

— DL Hughley (@RealDLHughley) February 27, 2023
Others on Twitter chimed in with their thoughts.
No, the "woke mob" didn't come for racist cartoonist Scott Adams.
The marketplace did.
If newspapers thought the benefit of running "Dilbert" was greater than the liability of running it, they would keep running it.
Dumping Scott Adams is free enterprise in action.

— Mark Jacob (@MarkJacob16) February 26, 2023
Dilbert creator Scott Adams went on a racist rant & is playing the victim after getting fired

Kanye went on antisemitic rants & played the victim after getting fired

Trump invaded our Capitol & is playing the victim

No one plays the victim better than overprivileged rich guys

— Lindy Li (@lindyli) February 26, 2023