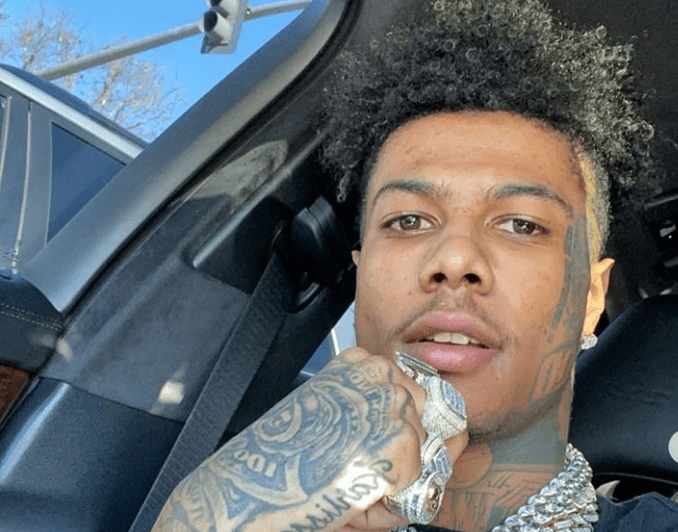 In the next chapter of this sad sordid saga, Blueface wants Chrisean Rock to undergo yet another abortion to get rid of the baby that she says she's currently pregnant with. This comes right after she's already admitted to her fans that she's ended multiple pregnancies in the past.
The fiery Los Angeles-born rapper Blueface, 26, ripped off a profanity-laced tirade against his longtime girlfriend — who happens to be every bit his equal as a quick-tempered hothead. Moreover, Blueface negatively compared Chrisean to the other mother of his child whom he says knows how to be a real mother.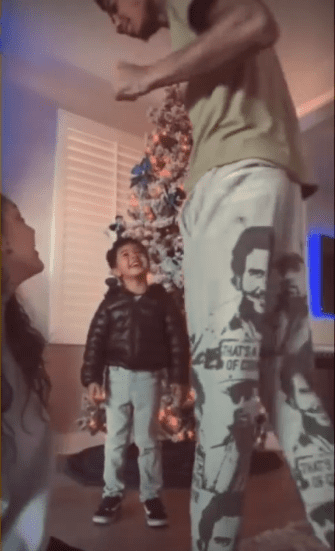 "This is what it's supposed to look like when a women tells a man she pregnant," the 26-year-old penned to his two million followers on Instagram. "Any other response or question you should abort the baby an treat the next n—- better for the sake of you him an the baby."
Blueface, 26, was just getting cranked up as he added this zinger: "No man should question the paternity of a child if they do 9x outta 10 the women hasn't been valuing herself enough which makes them believe theirs a possibility it's not theirs this is a wholesome beautiful moment that every righteous women deserves fr."
Not done spitting venom at his woman and the co-stars of their reality TV show, "Blueface and Chrisean: Crazy in Love," he also unloaded on Chrisean on Twitter as well.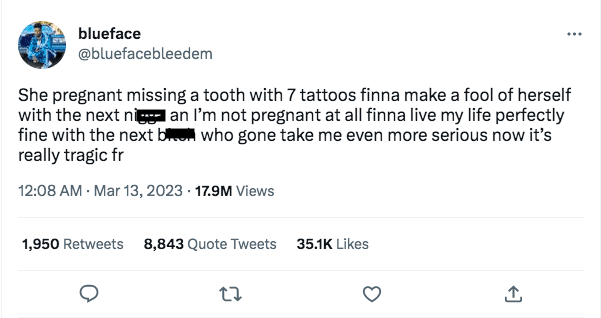 Blueface's vitriol was in response to invectives Chrisean spat to her three million IG followers as she decried the allegedly bad way he treats her.
"You know how I used to go on rants and I used to cry a lot and tell y'all what was going on?" Rock said. "I'm gonna be a buck, my n—-: you really don't need nobody to be happy. It's really you that has to be happy with yourself. I'm learning since I've been real sober and s— … I just learned how to back off so bad that I'm silent."
Chrisean then asked rhetorically about what else can Blueface expect than for men to approach her when he allegedly handles her the way he does. 
"He say 'f— you ho,' all types of s—, calling me all types of h— because it's n—– in my face or n—– in my DMs. But what you expect if you publicly treat me like s—? I really don't think muthaf—– think we really together."
Depending on the validity of Chrisean's claims of a pregnancy, which she announced on Blueface's birthday on Jan. 20, this extremely combustible couple cannot just break away from each other permanently. He already admitted publicly that he is the father of her unborn child.