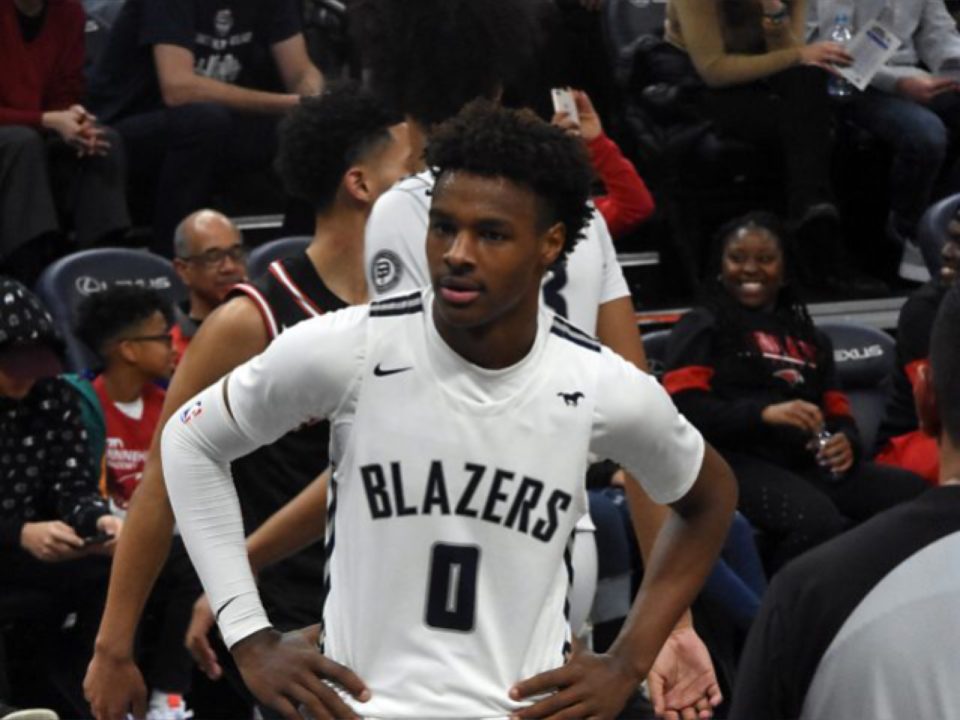 After fans debated whether or not he deserved the selection, Bronny James fit right in at the 2023 McDonald's All-American boys basketball game on March 28 in Houston.
Bronny, the oldest son of NBA legend LeBron James, finished the game with 15 points on 5-of-8 3-point attempts.
15 points (5/8 3P) for projected top-10 pick Bronny James showing why he's so highly regarded by some with an outstanding McDonald's All-American game showing. Also played strong defense and showed off his advanced feel for the game. pic.twitter.com/clsCGAyngd

— Jonathan Givony (@DraftExpress) March 29, 2023
Bronny's biggest offensive highlight of the night came with 1:21 to go in the game. The Sierra Canyon star caught the ball for a corner three as his team trailed by two, and he gave them a late lead.
BRONNY IS FUEGO FROM DOWNTOWN 🔥 pic.twitter.com/muXjYBopfT

— SportsCenter (@SportsCenter) March 29, 2023
A new five-star prospect, Bronny passed up a late shot to give his team a chance to tie the game, so his team lost, but he proved he is among the nation's elite talent.
With all eyes on him throughout the week, Bronny put on a show in the dunk contest and shot the ball efficiently in the All-American game. A performance his father, who played in the game 20 years ago, was all smiles about after the showcase.
Bron showing love to Bronny after his All American game 🤝

(via @krystenpeek)pic.twitter.com/DcugGKa1N0

— Bleacher Report (@BleacherReport) March 29, 2023
Bronny was one of three sons of NBA players in this year's All-American game. Andrej Stojakovic, son of Peja Stojakovic, and DJ Wagner, son of Dajuan Wagner, were also in action. DJ Wagner became the first third-generation McDonald's All-American, as his grandfather, Milt Wagner, also played in the game.