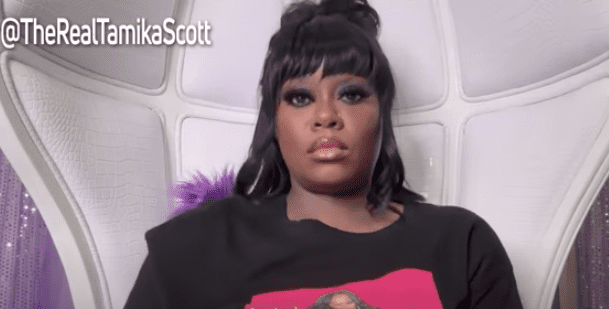 The ongoing drama between Xscape singers Tamika and her sister LaTocha Scott has worsened after Tamika Scott produced receipts that allegedly prove her sister stole at least $30K from her.
Tamika Scott accuses her sister, LaTocha, and brother-in-law Rocky Bivens of devising a scheme by which they switched addresses from Tamika Scott's home to LaTocha Scott's house to collect the royalty checks.
LaTocha Scott and her husband Rocky Bivens have vehemently denied they stole from Tamika Scott. Furthermore, LaTocha Scott explained on "Cocktails With Queens" that her sister has manufactured this story in order to produce a storyline for their reality show, "SWV & Xscape: The Queens of R&B." 
"My thing is, was this for a storyline? Or is this real life?" said LaTocha. "Because in real life, me and my sister, we talk. And you talking about 10 years ago and I'm calling you, and if somebody accuses you of something, they should be able to talk to you about it. It's not even about the $30,000. It's about having my sister back. Like, I'll give you that! But at the end of the day, you need to talk to me.""
When Tamika Scott got wind of what her sister said, she went volcanic on her Instagram page and on YouTube, producing receipts that she says prove LaTocha Scott and her husband stole from her.
Below is a snapshot from the YouTube page of the alleged address change that LaTocha Scott is accused of engineering in order for her and her husband to cash in.
Tamika posted the receipts that allege her sister Tocha Scott and Rocky literally switched her mailing and email address needed to obtain her royalty checks. Tamika also accuses Tocha of acting like she was her manager. Chile, this is nasty work. pic.twitter.com/zLs58mLHYq

— La'Janeé (@_LaJanee_) March 29, 2023
Tamika Scott adamantly refuses to apologize as her sister LaTocha Scott demands because she says her accusations are truthful.
"She's not gonna get an apology and after I reveal what I reveal about her, I don't want an apology because I'm not vain like that," said Tamika Scott. "I just need you to go somewhere to repent and ask God to forgive you and your husband."
Listen to the explosive allegations hurled by Tamika Scott at LaTocha Scott in their entirety below.