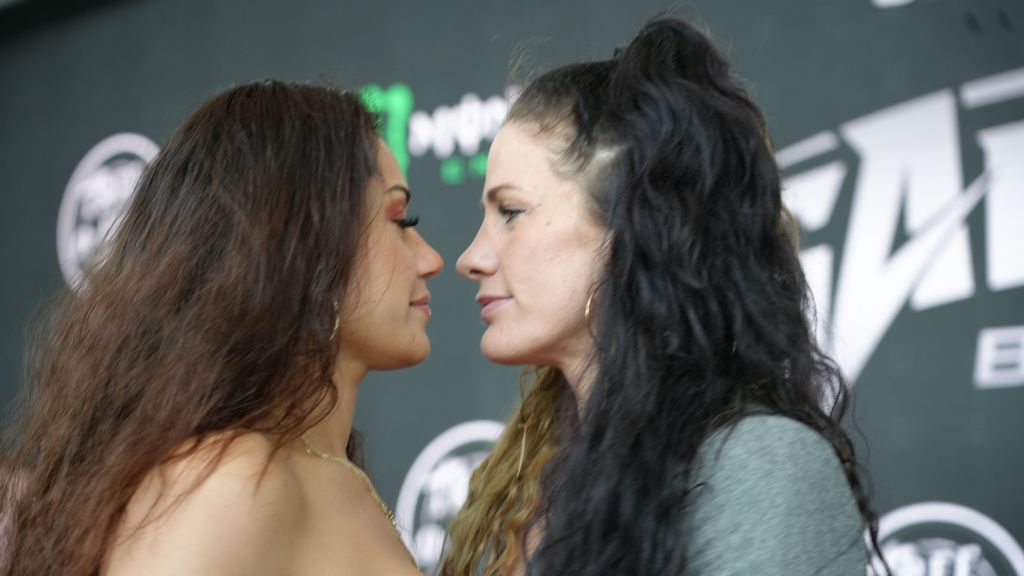 SAN DIEGO — Pearl Gonzalez admits that she's let distractions get in the way of her being at her best during her combat journey. She's fought in mixed martial arts, Bareknuckle Boxing, and currently 2-0 as a professional boxer. Her focus has shifted to boxing, and she credits Pound for Pound female star Amanda Serrano for the nudge. Gonzalez joined Serrano in Brooklyn and claims to have had an eye-opening experience while in New York. On Saturday night, she will have the opportunity to show off skills she's accumulated against debuting Gina Mazany. The biggest stage of Pearl's boxing career is set, and she intends to take full advantage at Gamebred Boxing 4, in front of combat sports icons like Roy Jones Jr., Jose Aldo, Jacare Souza, Vitor Belfort, and many others. 
Zenger News tracked down Pearl Gonzales to discuss the magnitude of this event, her new found focus, and much more. 
Zenger: You have covered every aspect of combat sports, mixed martial arts, Bareknuckle boxing, and now boxing. How does your training vary for the different disciplines? 
Gonzalez: The last couple of years, I have only been focused on boxing. When I first started my journey in Bareknuckle boxing, I actually moved to Brooklyn, New York for over a year and I trained alongside Amanda Serrano for the entire time. It was one of the most incredible experiences I had the privilege of doing. I moved out there by myself. I didn't know anybody, but Amanda and Jordan. They opened their doors and their camp up to me to allow me to train with them. I believe that experience opened up the mindset of a boxer for me. It showed me the basic fundamentals. Being with Amanda, one of the greatest female boxers of all time, just seeing how she trains, and lives her life, it taught me so much on focus and discipline and simplicity in my training. The last 2 ½ years, I have solely been focused on boxing. 
Zenger: At this stage of your career, is your focus just boxing or would you entertain one of the other sports as well? 
Gonzalez: Yes! Today I am the striker I always dreamed of being as a mixed martial artist. I still go on the mats and grapple because I'm a grappler at heart. To be a boxer and to pursue a world title in boxing which is one of my goals, I have to completely commit. These girls are not training other sports. I'm playing catch up at this point. If the right opportunity presents itself, I'll never close the door on MMA. 
Zenger: You're introducing Gina Mazany to the boxing ring. Given this is her debut, what are you expecting from her? 
Gonzalez: I think she is going to be aggressive and come forward. I have a lot of respect for Gina. She competed in the UFC. She's the bigger athlete. She competed at 135 and moved down to 25. She tested herself against some killers. I don't think the lights and big stage is going to get to her. I think she is game for this fight. I expect her to be tough. One thing I have learned about this boxing journey, there's a difference in boxing and MMA striking. The development it takes to learn the endurance, to learn how to punch, turn your hand over, and generate power. It is so different. She said today at the press conference she is going to stand toe-to-toe with me. I am so excited for that. I want to go out there and put on the best performance. If she wants to go toe-to-toe, which is what I want to do, we're going to go until someone falls. I do believe she's gonna fall. 
Zenger: Jorge Masvidal and Gamebred Boxing has opened the door up to give opportunities to fighters to prolong and kick start their boxing careers. What does this opportunity mean to you? 
Gonzalez: I was literally sitting next to Jose Aldo today at the press conference, next time him was Jacare Souza, and then next to him was Roy Jones Jr. This is a dream come true. I've always been inspired and looked up to Jorge Masvidal. He's from the hood and he's built himself up to become one of the biggest stars in combat sports. I have always been inspired by him. This is an amazing opportunity for me. Humbly, the last two fights were small. There was no media coverage. Now that we have this huge platform with some of the legends who are so respectful and honorable, I am at a loss. I just wanna go out and put on a great performance. It's invigorating to have such a big platform. 
Zenger: You are 2-0 as a boxer, what have you learned most about Pearl Gonzalez the boxer in those two fights? 
Gonzalez: That I didn't know how to punch. The training is the same shit every day. You have to hone in on this particular skillset. The simpler life gets the more complicated it gets. Its like, "I gotta do this again?" I learned to put my head down and put the work in. I don't need a coach to get me to work out, I don't need a coach motivating me. Granted it, I'm fortunate to have an amazing coach and training partners around me, but I can go to the gym, show up, get my work in, and get better on my own. That's something that I learned through Amanda. Since being with Amanda, I have removed so many distractions. I know what I need to do every day. Everything after my goal will be there. My career is my priority. It's not an easy life. It's very boring, it's lonely at times. I would be lying if I said at times I don't get lonely, but I know this is going to pay off and Saturday night is the beginning of that. 
Zenger: How do you not get affected by the lights and the magnitude of this event? 
Gonzalez: This is an honor, man. Early on in my career, I made the mistake of letting the lights, camera, media, social media to get to me. It got me out of my groove, and now with all of my experience, none of that matters. The press and weigh ins and all that is great, but really the only thing that really matters is me and Gina and when we get in that ring Saturday night and we get our 12 minutes together. And what I do in that 12 minutes is all that matters. I am glad that she is tough and want to come forward. I want those fights. I need those wars. 
Edited by Joseph Hammond and Virginia Van Zandt
Recommended from our partners
The post Time Spent With Amanda Serrano Has Pearl Gonzalez Eyeing Boxing Gold  appeared first on Zenger News.