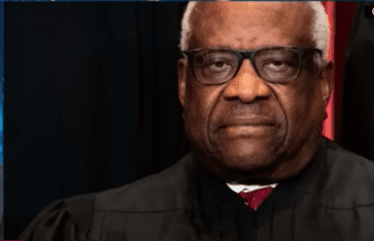 Days after the media revealed Supreme Court Justice Clarence Thomas' unethical relationship with a donor, the public has learned that the billionaire business baron is a longtime collector of Adolf Hilter memorabilia.
The Washingtonian resurfaced a 2014 Dallas Morning News story from 2014 that revealed that billionaire real estate magnate Harlan Crow has a bevy of Hitler artifacts in his mansion. This includes a signed copy of Mein Kampf from the dictator himself, as well as Hitler's paintings of cityscape paintings, Nazi medallions, swastika-embossed linens and statues. 
CNN has reported that Thomas has had ultra-lavish gifts bestowed on him by Crow for the past 25 years, including paid vacations to exotic locations, flights on his private jet and sailings on his multimillion-dollar yacht.
But it was the paintings and other items that jarred visitors, the Dallas Morning News reported then. At the home, the person said the paintings by Norman Rockwell and George W. Bush hung adjacent on the wall to those done by Hitler.
"I still can't get over the collection of Nazi memorabilia," a visitor of Crow's home told the Washingtonian. "It would have been helpful to have someone explain the significance of all the items. Without that context, you sort of just gasp when you walk into the room."
Thomas has yet to answer about Crowe's unseemly fascination with Hitler. But he played down Crowe paying for luxury trips.
"Harlan and Kathy Crow are among our dearest friends, and we have been friends for over twenty-five years. As friends do, we have joined them on a number of family trips during the more than quarter century we have known them," the conservative justice said in a statement obtained by The Washingtonian.