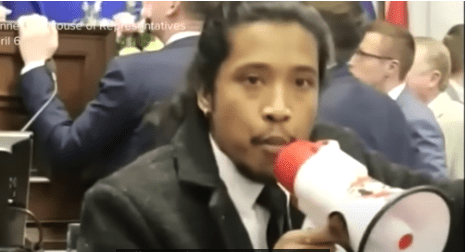 Tennessee state Rep. Justin Jones, D-Nashville, was officially returned to his seat in the state legislature after the Nashville Metropolitan Council voted to reinstate him.
Jones was ousted by the Republican-dominated state legislature last week after he boisterously protested gun violence following another mass shooting, this one at a school in Nashville that killed six people including three 9-year-old children.
Jones and two other people —- the other Black state Rep. Justin J. Pearson and Rep. Gloria Johnson, who is White — reportedly broke House rules when they used bullhorns during their protest from the chamber floor because they were not being recognized to speak.
Interestingly enough, this led to two developments in the aftermath of the protest of the "House Three," as they are being called: First, House leaders laughably deemed the protest as an "insurrection" and voted to expel the two Black state representatives, Jones and Pearson. Johnson, however, survived the vote and she believes it was because of her race that she was not ousted along with the Black men.
However, the outlandish characterization by the House leaders and their expulsion of Jones and Pearson sent shock waves that reverberated all the way to Washington. Vice President Kamala Harris flew to the Tennessee capital to meet with the "Tennessee Three" while Jones' Black constituents unleashed protests at the statehouse.
On Monday, April, 10, the Nashville Council voted unanimously to send Jones back to the statehouse which is located in the same city.
"He's a duly elected representative of his constituents. They voted him in. They chose him. They want him to speak for them," Councilmember Zulfat Suara said shortly before Monday's vote, according to NBC News. "We cannot stop the voices of the masses or what the voters wanted, that would not be good for our democracy. What the state did [Thursday] is that: kill democracy."
Meanwhile, the Shelby County Board of Commissioners will meet on April 12 to decide what action will be undertaken to reappoint Pearson to his seat, Chairman Mickell Lowery told the media on Sunday.
"I believe the expulsion of state Representative Justin Pearson was conducted in a hasty manner without consideration of other corrective action methods," Lowery said in a statement obtained by the outlet. "I also believe that the ramifications for our great state are still yet to be seen."
Listen to the full report from Nashville news station WHAS11