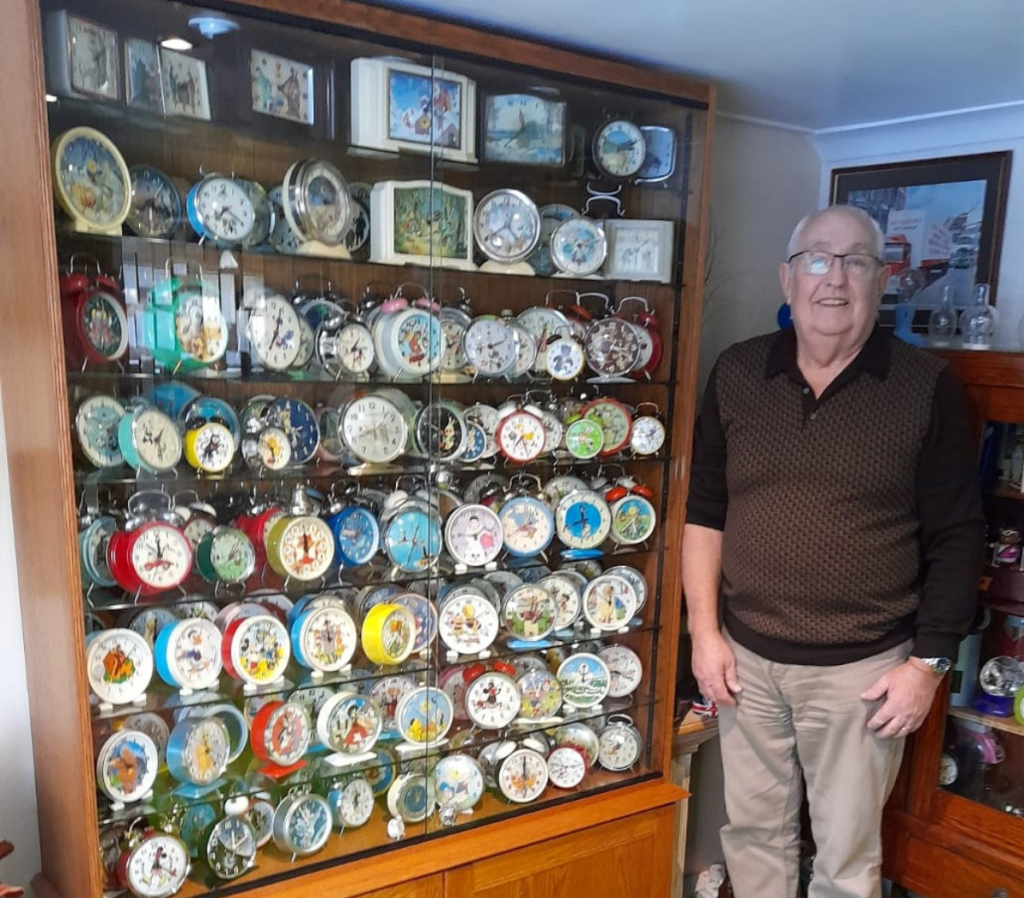 By Adam Dutton
A great-grandad who has spent the last 30 years amassing a wacky collection of 550 alarm clocks is now selling them at auction for tens of thousands of dollars.
Frank Randell, 79, has spent more than three decades buying hundreds of quirky clocks from across the world and admits it has turned into an obsession.
Some of them date back 90 years and include James Bond, Star Wars, The Beatles, Mickey Mouse, Mr. T and Flintstones themed timepieces.
His bizarre collection is now being sold across several auctions – because none of his kids or grandchildren want to inherit it.
Some of the alarm clocks are expected to fetch up to £1,000 ($1,247) individually while others could go for between £100-£150 ($124- $187) and £40-60 ($49-$74).
It means Frank is set to rake in tens of thousands of pounds when they go under the hammer at Hansons Auctioneers, in Etwall, Derbys, England.
The retired transport director says he has painstakingly changed the batteries on all the clocks over the years to keep them in full working order.
Frank, from Nottingham, England added: "It all started with a James Bond alarm clock in the early 1990s.
"Then I came across a Beatles alarm clock. It turned into a passion, some might say obsession.
"Wherever my wife Ann and I went in the world – America, France, Japan, China – if I saw a clock that suited my collection I bought it.
"I searched for them at collectors' fairs too. They were all kept on display in glass cabinets in a basement room used for family events.
"I documented every clock, where I bought it and what it cost. And every six weeks I checked over them all, replacing any dead batteries. That was a big job.
"I'll be turning 80 this year and I've decided it's time to say goodbye to my collection.
"The kids don't want them. I'd like to see them go to collectors who will enjoy them as much as I have.
"My favorites are the animated clocks. I am keeping a few for my three children, six grandchildren and great granddaughter."
The first 100 lots of the collection are being offered in Hansons Auctioneers' Toy, Clocks & Models Auction on April 28.
Hansons' valuer Steve Fulford said: "I was blown away by the size of Frank's collection.
"I have never come across anything quite like it. It's phenomenal and I absolutely love it.
"People amass all sorts of things, from toys and cars to ceramics and militaria, but specifically focusing on alarm clocks is pretty unusual. Most clock collectors go for centuries-old timepieces, antiques from the days of early clock production.
"Not Frank! He's been busy buying 20th century alarm clocks dating from the 1930s onwards. They're so fun and cute, especially the animated ones. Thanks to their connection to pop culture they demonstrate what made people tick through the decades.
"Noddy, the Flintstones, Mickey Mouse, Roland Rat, Wallace and Gromit, Popeye and even Mr. T turn up in the collection. There are some Star Wars clocks too and one dedicated to bedtime drink Horlicks. They connect us with our childhood, famous films, books and TV shows.
"Frank's looked after them well and even kept the boxes. They're in good condition and work. There isn't enough time to catalogue them all in time for the April sale, so we plan to spread them out across a few auctions.
"I'm sure bidders will like them including interior designers on the hunt for vintage wares to decorate homes. There is something for every budget in this collection. Some clocks will be sold in groups of five starting from £40-£60 ($49-$74). Others will be sold individually with estimates of £100-£150 ($124- $187).
"The best example I am aware of is a Bakelite clock with a moving ship. I have seen those fetch between £400 and £1,000 [$498- $1,247] at auction.
No one likes getting up in the morning, and it would certainly be a shock waking up to 550 alarms, but Frank's clocks really make you smile. These days most people are woken up by the characterless slab of plastic that is their mobile phone.
Let's face it, that's not half as much fun as a nodding Noddy or animated cockerel. Frank's collection is a joy. He paid thousands of pounds to buy his clocks over the years.
"I hope we can recoup some of that outlay for him and put alarm clock collectors on the map. And if you haven't started collecting alarm clocks yet, maybe now's the time."
Produced in association with SWNS Talker
Recommended from our partners
The post Man's Wacky Clock Collection Could Fetch Tens Of Thousands At Auction appeared first on Zenger News.