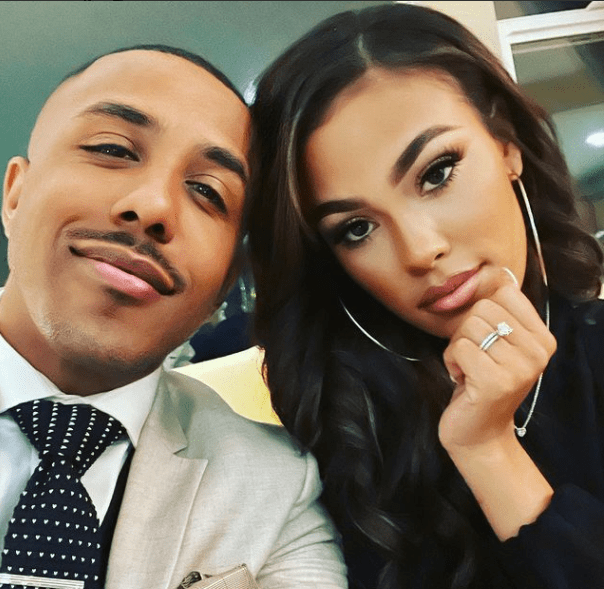 Marques Houton could be making an already putrid situation with fans even funkier with the utterance of every syllable on the subject of the age gap with his wife.
The former Immature singer appears to be dangling precariously close to falling irreversibly into obscurity and becoming a complete persona non grata in entertainment.
Houston spoke to the New York Post's Page Six section about his recent appearance on the TV One series "Uncensored," where he elaborated on being 37 years old when he met a 17-year-old high school student, then married her when she turned 19.
The "Sister, Sister" sitcom alum tried to justify his personal decisions to the newspaper, saying that he never preferred to court women in his age group because they are "red flags" who come with "baggage" and "kids."
"A red flag to me [was] always with a woman that had a kid," he said. "Nothing against single women, but single mothers with children are a red flag for me."
Instead, a friend introduced Houton to his now-wife Miya Dickey in 2018 and he said they inched along toward romance. He said on "Uncensored" that they did not consummate their relationship until she was at least 18. Houston knew beforehand that he did not want to date a woman with kids. 
"I tip my hat and respect women that are raising children on their own," he said. "But when I grew up, I never really wanted to have kids."
He added that his father admonished him against dating women with children.
"I would talk to my dad a lot, and he would always tell me to have your own kids because you never know what the baby daddies are about," he said. "So if you're gonna have kids, make sure it is with a woman that never had kids. So that was always my red flag … and a woman with an attitude. I don't like women with funky attitudes.
"I'm 41, she is 22. I could've married a 44-year-old woman, and it could've been disastrous," the singer continued.
"Women that are my age … they kind of have a different outlook on life. Like a lot of women my age are very independent. They are very like, 'I don't need a man to do this for me 'cause I can do it for myself.' I come from a generation that I love to provide for my wife," he said.

Houston said that he feels lucky to meet a young woman because he is young at heart and that when their lives intersected, it became a collision of hearts.
"There's a lot of women my age I've dated, they may have baggage. They may have kids, they may not. There's so many different women I've been with throughout my life, and it just so happens to be that this one [Miya] caught my heart,"  he said.