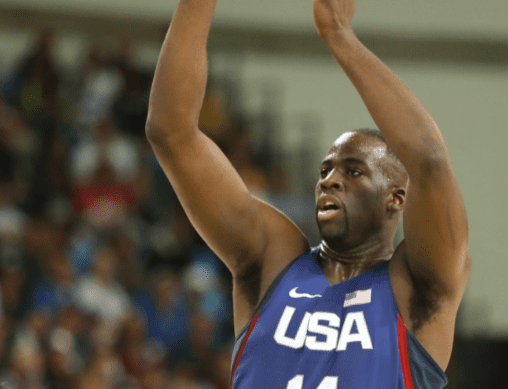 NBA star Draymond Green revels in villainy. Throughout his illustrious and controversial career with the Golden State Warriors — which has produced four championships — the power forward has always been susceptible to explosions out of nowhere.
Green erupted again in the second half of the Warriors' 126-123 loss at the Sacramento Kings on Monday night, April 17, 2023. During a scrum of falling and colliding bodies while chasing a rebound, Domantas Sabonis ended up on his back. Sabonis then grabbed Green's ankle, igniting an explosion of anger in the notoriously temperamental Green, who then stomped on Sabonis' chest cavity and left him writhing in pain. 
Draymond Green stomps on Domantas Sabonis.

He was hit with a flagrant 2 foul and ejected. pic.twitter.com/gYWvNO9lHR

— ClutchPoints (@ClutchPointsApp) April 18, 2023
While the officials huddled to decide the punishment, Green incited the Kings faithful into a full-on fury by mockingly laughing, clapping and yelling at the crowd. Green was slapped with a Flagrant 2 penalty which is an automatic ejection, while Sabonis was hit with a Flagrant 1, which is a technical foul but enabled him to remain in the game.
Draymond Green interacts with Kings fans as he was ejected.

(via ben.golliver/IG) pic.twitter.com/vRYyJ1AUda

— SportsCenter (@SportsCenter) April 18, 2023
As the game shifts to the Warriors' home court in San Francisco, the defending champs are staring down the barrel of an 0-2 hole in the series. And they may be without their emotional leader and de facto enforcer because some pundits predict that Green could face suspension for the next playoff game.
Sabonis, meanwhile, reportedly had X-rays done on his chest to substantiate the extent of the bruising the Kings' center may have suffered.
In the postgame press conference, Green blamed the game officials for not catching Sabonis grabbing his ankle the first time in Game 1.
"The explanation was I stomped too hard."

Draymond shares his perspective on the Flagrant 2 pic.twitter.com/sykCNx0GGc

— Warriors on NBCS (@NBCSWarriors) April 18, 2023
The episode sparked a lot of hilarious memes mocking the mercurial Green.
Draymond when there's a player on the floor pic.twitter.com/MZ3EhgV8F3

— Jasmine (@JasmineLWatkins) April 18, 2023
My favorite Draymond Green clip of all time 😭 pic.twitter.com/ylCrckOaY7

— Mink Flow (@currypistonn) April 18, 2023
Wow. Hadn't seen this angle of the Draymond Stomp yet. Looks REALLY bad. pic.twitter.com/QLTMKp4fWG

— Taco Trey Kerby (@treykerby) April 18, 2023
Draymond Green when Sabonis grabbed his leg: pic.twitter.com/E1OY5PDnKH

— K.BO XXV (@KBO_XXV) April 18, 2023
Draymond's defense on Sabonis all game 😭 😭 💯

— 𝖘𝖙𝖊𝖕𝖍𝖊𝖓¹⁰ 🧸 (@dariusgarlandd) April 18, 2023
Others, however, view Sabonis as the prototypical provocateur and actor who deliberately induced Green into his knee-jerk eruption by grabbing his ankles.
Draymond didn't have to do all that but give Sabonis an Emmy

— philip lewis (@Phil_Lewis_) April 18, 2023
Many fans, however, conveyed a lack of shock about Green's behavior.
Draymond Green: Dirty Player

Nothing new here

— Jackson Gatlin (@JTGatlin) April 18, 2023
Throw Draymond Green out of the game. Thats absolute bulls***

— Maximiliano Bretos (@MaxBretosSports) April 18, 2023
Draymond Green is his own worst enemy

It feels like he is playing less and less actual basketball and more and more antics these days

— Sean Barnard (@Sean_Barnard1) April 18, 2023